347 Reviews
Address:

Franz Josef, New Zealand

Hours:

Admission:

Free
One of the fastest moving glaciers in the world, the Franz Josef Glacier is a spectacular river of ice. It is one of the world's steepest glaciers descending 1.5 miles (2.5 kilometers) over its 7.5 mile (12 kilometer) path through the valley, ending in lush temperate rainforest. As it flows it travels over bumpy steps which forces ice upwards to create dramatic ice cliffs and sharp crevasses.
Over 2,700 people visit the ice a day during peak season. Some spend their time exploring the terminal face while others take helicopters to take advantage of the views and get access to higher icefalls, so they can clamor over the less-populated ice and carve out an adventure in the stunning and challenging terrain.

Practical Info
Franz Josef is a small town 3 miles (5 kilometers) from the terminal face of the glacier. It only has a population of 330 but it has around 2,000 beds, so you don't have to travel to and from Queenstown (5 hours) in the same day. There are two bus lines that drive the route, to and from, daily.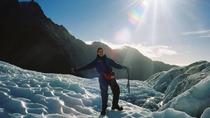 138 Reviews
Combine a scenic helicopter flight over Franz Josef Glacier with a 2-hour guided walk on glacial terrain during this exhilarating tour from Franz Josef. Find ... Read more
Location: Franz Josef, New Zealand
Duration: 3 hours (approx.)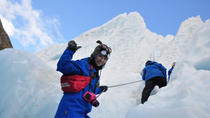 186 Reviews
Discover the best of New Zealand's natural beauty on this small-group 4-hour Franz Joseph Glacier walk. Travel by helicopter to the Pinnacles area of the ... Read more
Location: Franz Josef, New Zealand
Duration: 4 hours (approx.)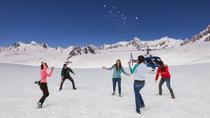 64 Reviews
Marvel at some of New Zealand's most amazing scenery on this once-in-a-lifetime 30-minute helicopter flight over the Franz Josef and Fox Glaciers. Enjoy ... Read more
Location: Franz Josef, New Zealand
Duration: 30 minutes (approx.)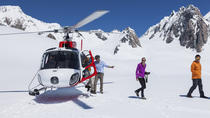 4 Reviews
From sea level rising to the heart of the magnificent Southern Alps, this 20-minute helicopter flight explores the awe-inspiring ice falls of the Franz Josef ... Read more
Location: Franz Josef Glacier, New Zealand
Duration: 20 minutes (approx.)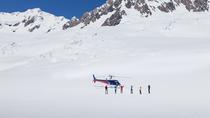 22 Reviews
The perfect opportunity to get up close to the glacier and touch snow. You'll be captivated as you lift off and fly up and over Fox Glacier and experience the ... Read more
Location: Franz Josef, New Zealand
Duration: 20 minutes (approx.)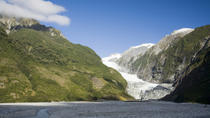 59 Reviews
On this day trip from Franz Josef experience New Zealand's stunning nature of the Franz Josef Glacier. This relaxing, interpretive walk to the glacier is the ... Read more
Location: Franz Josef, New Zealand
Duration: 3 hours (approx.)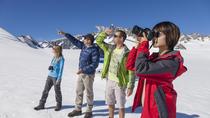 12 Reviews
Experience two of New Zealand's finest National Parks, divided by the imposing Southern Alps. Discover the gigantic expanse of the Franz Josef and Fox Glacier ... Read more
Location: Franz Josef, New Zealand
Duration: 40 minutes (approx.)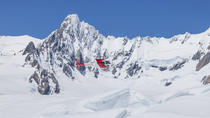 1 Review
Twice the ice! Explore the glacial icefalls of not one but two glaciers - Fox Glacier and Franz Josef Glacier on this 30-minute helicopter flight from Fox ... Read more
Location: Franz Josef Glacier, New Zealand
Duration: 30 minutes (approx.)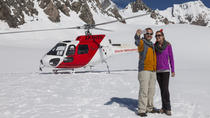 Twice the ice! Explore the glacial icefalls of not one but two glaciers - Fox Glacier and Franz Josef Glacier on this 30-minute helicopter flight. Discover up ... Read more
Location: Franz Josef Glacier, New Zealand
Duration: 30 minutes (approx.)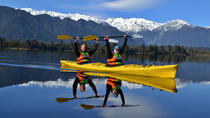 6 Reviews
A unique kayak adventure, only minutes from Franz Josef Glacier! Set out across Lake Mapourika's mirror-like water and enjoy panoramic views of the surrounding ... Read more
Location: Franz Josef Glacier, New Zealand
Duration: 3 hours (approx.)