There are two things which make Franz Josef and Fox glaciers such popular New Zealand attractions. The first is that these rivers of ice spill their way through a rainforest, thereby creating a unique scenario where ice is flanked by trees. The second is the way in which they're easily accessible, and all it takes to visit the glaciers is a short hike out to ice.

With that being said, despite the relative ease of access, those who visit the foot of the glaciers only get to see a small part. To fully understand the enormity, you need to experience the glaciers from the air or actually step foot on the ice. On helicopter tours of Franz Josef and Fox glaciers, visitors can buzz above the full expanse of ice and actually trek on the glacier itself. Adventurous, thrilling, and remarkably unique, only a handful of visitors will experience the glaciers in such an up-close and intimate way.

All flights depart from the associated townships, and morning hours are often best for clarity and lighter winds. Trekking tours will make a snow landing around 7,000 feet in elevation, and with crampons beneath you and ice axe in hand you'll navigate crevasses and blue-white seracs. For those who would prefer to stay in the air, tours are available which visit both glaciers and quickly make a lap of Mount Cook. Seeing as this is a realm which will only be visited by the hardiest of mountaineers, the helicopter tours of Franz Josef and Fox glaciers are the only way you'll experience the beauty of this remote and isolated terrain.

On the return journey, watch as the ice gives way to the rainforest and get an aerial view of their level of retreat. Both Franz Josef and Fox glaciers are moving towards the mountains, and the bird's-eye view is the best way to see the swath of land which has been carved by ice. While definitely more expensive than simply walking to the ice, helicopter tours of Franz Josef and Fox Glacier provide an experience not found back on land and are well worth the cost of adventure.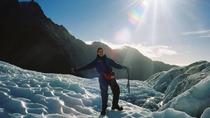 150 Reviews
Combine a scenic helicopter flight over Franz Josef Glacier with a 2-hour guided walk on glacial terrain during this exhilarating tour from Franz Josef. Find ... Read more
Location: Franz Josef, New Zealand
Duration: 3 hours (approx.)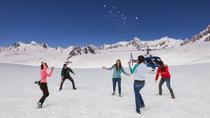 71 Reviews
Marvel at some of New Zealand's most amazing scenery on this once-in-a-lifetime 30-minute helicopter flight over the Franz Josef and Fox Glaciers. Enjoy ... Read more
Location: Franz Josef, New Zealand
Duration: 30 minutes (approx.)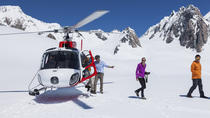 9 Reviews
From sea level rising to the heart of the magnificent Southern Alps, this 20-minute helicopter flight explores the awe-inspiring ice falls of the Franz Josef ... Read more
Location: Franz Josef Glacier, New Zealand
Duration: 20 minutes (approx.)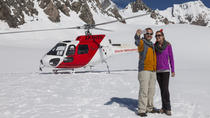 3 Reviews
Twice the ice! Explore the glacial icefalls of not one but two glaciers - Fox Glacier and Franz Josef Glacier on this 30-minute helicopter flight. Discover up ... Read more
Location: Franz Josef Glacier, New Zealand
Duration: 30 minutes (approx.)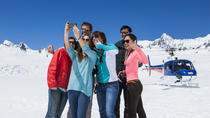 18 Reviews
Depart Fox Glacier Village, fly over the legendary Fox Glacier and snowfields and watch the crevasses and ice forms race by below you. Land in the snow above ... Read more
Location: Fox Glacier, New Zealand
Duration: 30 minutes (approx.)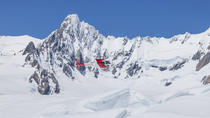 3 Reviews
Twice the ice! Explore the glacial icefalls of not one but two glaciers - Fox Glacier and Franz Josef Glacier on this 30-minute helicopter flight from Fox ... Read more
Location: Franz Josef Glacier, New Zealand
Duration: 30 minutes (approx.)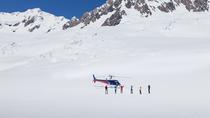 24 Reviews
The perfect opportunity to get up close to the glacier and touch snow. You'll be captivated as you lift off and fly up and over Fox Glacier and experience the ... Read more
Location: Franz Josef, New Zealand
Duration: 20 minutes (approx.)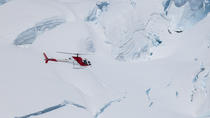 1 Review
Enjoy the ultimate glacial experience on this 40-minute Mount Cook spectacular helicopter flight from Franz Josef. This flight tours covers it all including ... Read more
Location: Franz Josef Glacier, New Zealand
Duration: 40 minutes (approx.)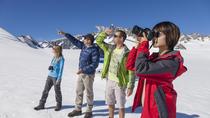 13 Reviews
Experience two of New Zealand's finest National Parks, divided by the imposing Southern Alps. Discover the gigantic expanse of the Franz Josef and Fox Glacier ... Read more
Location: Franz Josef, New Zealand
Duration: 40 minutes (approx.)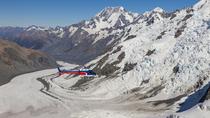 9 Reviews
Fly over two of New Zealand's most famous glaciers and marvel at the mantle of pure white snow as you land at the head of either the Franz Josef or Fox ... Read more
Location: Fox Glacier, New Zealand
Duration: 30 minutes (approx.)