Fraser Island RECOMMENDATIONS See all
Fraser Island 4WD Tours
By Viator, July 2014
No reviews, be the first!
Fraser Island is the world's largest sand island, and is full of pristine landscapes, white sand beaches and crystal lakes. Because Fraser Island is only accessible by ferry, 4WD vehicles are needed for getting around. While you can rent your own, most opt for a 4WD tour with a knowledgeable guide. Not only is this convenient, it allows you to see as much as possible in a short amount of time while also learning the necessary background information and having a more adventurous type of ride.

A Fraser 4WD Eco-Tour is a great option that begins in Noosa and gives you the entire day to explore Fraser Island. Begin your excursion with morning tea at Rainbow Beach, named for its vibrant palate of colors and a legend stating an Aboriginal rainbow spirit plunged into the beach's cliffs leaving a splattering of beautiful hues. After taking a ferry over to Fraser Island you'll head to Seventy-Five Mile Beach, named for its impressive length, where you'll partake in some off-roading thrills. Other experiences include a guided rainforest walk, swimming in a freshwater lake and savoring a traditional Australian barbecue with dishes like Saltwater Barramundi fish fillet, premium porterhouse beef steak, juicy sausages, baby spinach and sweet potato frittata, and fresh garden salad.

A similar but slightly different tour experience is a Fraser Island 4WD Eco Day Trip, which departs from Brisbane and the Gold Coast. The excursion begins with a cable-car ride into Cooloola National Park for morning tea on the beach before taking the ferry over to the UNESCO World Heritage Listed Fraser Island. From there, enjoy a scenic off-road drive along the iconic Seventy-Five Mile Beach, take a guided rainforest hike through Central Station or Pile Valley, go for a dip in either Lake McKenzie or Lake Birrabeen, dig into a traditional Aussie barbecue and end the day with afternoon tea on a secluded beach.

If you're looking to spend multiple days on Fraser Island, a 2-Day Fraser Island 4WD Eco Tour departs from Noosa and allows for a longer time to see the sights as you'll overnight at Happy Valley Apartments. On Day One you'll enjoy adventures like dolphin viewing and feeding at Tin Can Bay, hiking through the fertile Pile Valley, and swimming in the crystalline Lake McKenzie with its pure white silica sand (great for cleaning jewelry and skin!). A picnic lunch and Aussie barbecue are also part of the itinerary, as well as free time in the afternoon on your own. On Day Two, the vibrant Rainbow Gorge, crystal clear Eli Creek (one of Fraser Island's top natural wonders) and the once-opulent Maheno shipwreck begin the day. From there, you'll see the colorful Pinnacles and Coloured Sands for views of the multi-colored cliffs of the Cathedrals, as well as take in marine wildlife like turtles, dolphins and sharks from Indian Head before journeying back.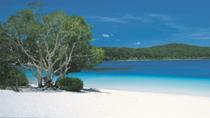 34 Reviews
Adventure seekers and outdoorsy people can enjoy a 2-day guided tour to spectacular Fraser Island with a stop at Cooloola Recreation Area on the way . Walk ... Read more
Location: Brisbane, Australia
Duration: 2 days (approx.)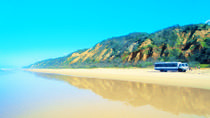 41 Reviews
Spend an incredible day exploring the natural beauty of Fraser Island, seeing highlights such as Central Station, Wanggoolba Creek, Lake McKenzie, Eli Creek, ... Read more
Location: Fraser Island, Australia
Duration: 9 hours (approx.)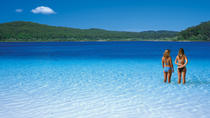 24 Reviews
Explore the beauty of Fraser Island on a full-day tour from Noosa or Rainbow Beach by purpose-built 4WD vehicle. Travel off-road along uninterrupted white-sand ... Read more
Location: Noosa, Australia
Duration: 11 hours (approx.)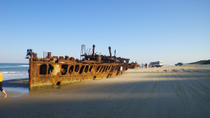 21 Reviews
Soak up the incredible natural beauty of World Heritage-listed Fraser Island. You'll walk scenic trails at Central Station, Wanggoolba Creek, Pile Valley, and ... Read more
Location: Fraser Island, Australia
Duration: 2 days (approx.)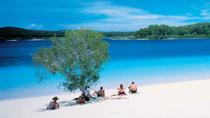 13 Reviews
Discover the World Heritage-listed Fraser Island, the largest sand island in the world, on a two-day tour by 4WD from Noosa and the Sunshine Coast, or from ... Read more
Location: Noosa, Australia
Duration: 2 days (approx.)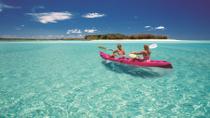 4 Reviews
Go snorkeling, kayaking and swimming in Fraser Island's pristine waters on a relaxed day trip from Hervey Bay. See dolphins, dingoes, turtles and sea eagles, ... Read more
Location: Fraser Island, Australia
Duration: 9 hours 30 minutes (approx.)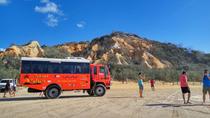 11 Reviews
Spend several days exploring the natural wonders of Fraser Island with an expert guide, including a visit to Cooloola Recreation Area on the way. Enjoy guided ... Read more
Location: Brisbane, Australia
Duration: 3 days (approx.)