Fraser Island is the largest sand island in the world, and is also a UNESCO World Heritage Site featuring white sandy beaches and over 100 freshwater lakes. While the pristine island is a beach itself, it's also home to a number of smaller beaches within it. The most popular stretch of sand on Fraser Island is undoubtedly Seventy-Five Mile Beach, named after its length of 75 miles (121 kilometers). While not the best swimming beach due to the many tiger sharks that inhabit the waters, the pristine white sand and beautiful blue water make it a visitor favorite.

If you are craving a safe saltwater swim the beach is home to the Champagne Pools, safe natural rock pools named after the Champagne-like bubbles that froth up when a wave crashes. Seventy-Five Mile Beach is also home to Indian Head, a rocky outcrop where you can look down at sharks, dolphins, sting rays and colorful fish. Make sure to enjoy a float down the crystalline and freshwater Eli Creek, and also see the on-shore Maheno wreck, once a luxurious boat and one of the world's fastest ships. Fishing and off-roading are other popular activities. Interestingly, Seventy-Five Mile Beach is more than just a place for sunbathing and recreation, it's also considered a highway and runway for planes.

Another top beach is Lake McKenzie, a perched freshwater lake that's also part of the Great Sandy National Park. What's unique about Lake McKenzie's beach isn't just its translucent waters and beauty, but also its white silica sand that's great for cleaning jewelry and skin. In fact, you'll often see beach-goers covered from head to toe in the granules. Facilities at the beach are clean and include a barbecue area, toilets and picnicking.

And at Waddy Point you can enjoy a secluded beach experience and less touristy outdoor recreation. The beach is a popular place for swimming, boating, body boarding, surfing, camping, fishing and hiking to scenic spots like Lake McKenzie, Conner's Corner or the Champagne Pools. Bird-watching and viewing wildlife like fish, sharks and sea turtles is also popular.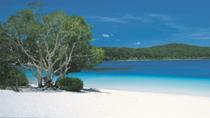 44 Reviews
Adventure seekers and outdoorsy people can enjoy a 2-day guided tour to spectacular Fraser Island with a stop at Cooloola Recreation Area on the way. Walk ... Read more
Location: Brisbane, Australia
Duration: 2 days (approx.)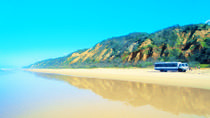 56 Reviews
Spend an incredible day exploring the natural beauty of Fraser Island, seeing highlights such as Central Station, Wanggoolba Creek, Lake McKenzie, Eli Creek, ... Read more
Location: Fraser Island, Australia
Duration: 9 hours (approx.)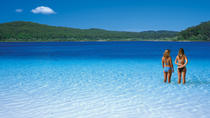 26 Reviews
Explore the beauty of Fraser Island on a full-day tour from Noosa or Rainbow Beach by purpose-built 4WD vehicle. Travel off-road along uninterrupted white-sand ... Read more
Location: Noosa, Australia
Duration: 11 hours (approx.)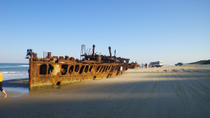 25 Reviews
Soak up the incredible natural beauty of World Heritage-listed Fraser Island. You'll walk scenic trails at Central Station, Wanggoolba Creek, Pile Valley, and ... Read more
Location: Fraser Island, Australia
Duration: 2 days (approx.)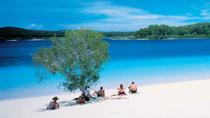 19 Reviews
Discover the World Heritage-listed Fraser Island, the largest sand island in the world, on a two-day tour by 4WD from Noosa and the Sunshine Coast, or from ... Read more
Location: Noosa, Australia
Duration: 2 days (approx.)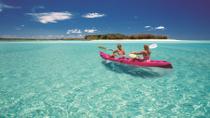 8 Reviews
Go snorkeling, kayaking and swimming in Fraser Island's pristine waters on a relaxed full-day boat trip from Hervey Bay. See dolphins, dingoes, turtles and sea ... Read more
Location: Fraser Island, Australia
Duration: 9 hours 30 minutes (approx.)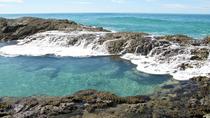 15 Reviews
Spend your days exploring Queensland's wild treasures, and your nights at beach resorts, on a guided 5-day tour to Fraser Island and the Great Barrier Reef. On ... Read more
Location: Brisbane, Australia
Duration: 5 days (approx.)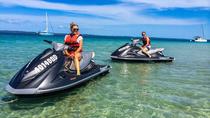 Discover the pristine beaches and forest-clad coastline of Fraser Island on a guided Jet Ski tour from Hervey Bay. Cross the warm turquoise waters of the Great ... Read more
Location: Hervey Bay, Australia
Duration: Varies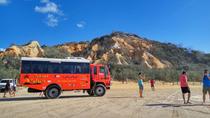 13 Reviews
Spend several days exploring the natural wonders of Fraser Island with an expert guide, including a visit to Cooloola Recreation Area on the way. Enjoy guided ... Read more
Location: Brisbane, Australia
Duration: 3 days (approx.)