All of the Canary Islands are special, but Lanzarote holds its own thanks to its otherworldly volcanic landscape. Since it's only a short boat ride away from Fuerteventura, you can see the best of Lanzarote on a quick day trip. Here's what you need to know.
Lanzarote Highlights
Explore the Cueva de los Verdes or dine inside a lava bubble at Jameos del Agua.

Swim, surf, or catch some rays on Playa Famara or Playa Blanca.

See the landscapes of Lanzarote through the eyes of native artist Cesar Manrique.

Go wine tasting in the island's La Geria region.

Experience the volcanic landscapes of Timanfaya National Park.

Snorkel, swim, or kayak in the clear waters of Papagayo Bay.

Watch the waves crash into the cliffs at Los Hervideros.

Shop in the Marina Rubicon outdoor craft market.

Things to Know
Three ferry companies make the 25-minute ferry crossing between Corralejo in Fuerteventura and Playa Blanca in Lanzarote several times daily.

Day trips from Fuerteventura can last upwards of 10 hours, depending on the option chosen

Many tours include hotel pickup and drop-off in Fuerteventura.

Lanzarote is one of the warmest islands in the Canaries, so remember to bring water, sunscreen, and a hat.

The Canary Islands are an autonomous region of Spain and have the same visa requirements.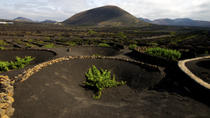 9 Reviews
Experience more than just Lanzarote's beautiful beaches on this full-day trip from Fuerteventura. Explore the awe-inspiring Fire Mountains with an optional ... Read more
Location: Fuerteventura, Spain
Duration: Flexible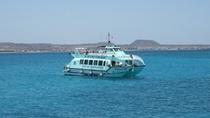 2 Reviews
Sail with a wonderful glass-bottomed catamaran and visit 3 islands in one day: Lanzarote, Isla de Lobos and Fuerteventura. This unique day at sea not only ... Read more
Location: Corralejo, Spain
Duration: 5 hours (approx.)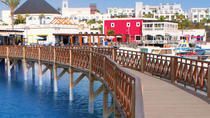 1 Review
Enjoy a boat journey from Fuerteventura to Marina Rubicón, Lanzarote. Explore the outdoor craft market and boutiques at a luxury marina. Pleasure cruise ... Read more
Location: Playa Blanca, Spain
Duration: 1 day (approx.)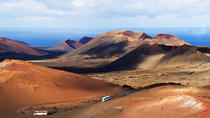 4 Reviews
Volcano national park, Lanzarote wine region, aloe vera museum visit, and the unique green lagoon, could be the best full day sightseeing excursion.
Location: Corralejo, Spain
Duration: 1 day (approx.)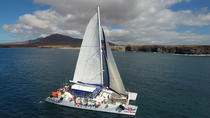 Hop on board an express ferry directly to the stunning Marina of Rubicon. Shop, eat and explore at the market before relaxing on a catamaran and taking time ... Read more
Location: Corralejo, Spain
Duration: 6 hours 30 minutes (approx.)