Se Cathedral of Funchal Tours
One of only a handful of late fifteenth century structures to survive the test of time, this Gothic-style cathedral is evidence of an impressive history and rich architectural past. Its impressive exterior gives way to an understated, spiritual gathering space and altar that make Se Cathedral Funchal a perfect spot for quiet reflection or contemplative prayer. Visitors can marvel at the detailed ceiling and beautiful side altars while attending morning mass at 8 a.m. The church's unique bell can be heard throughout the town just before services start.
Practical Info
Check the schedule before making a trek, since Se Cathedral of Funchal is often closed during the day. Nearby cafes and quiet shops make this an ideal place to spend the afternoon, but be wary of beggars who frequently wait outside chapel doors to ask for money after services.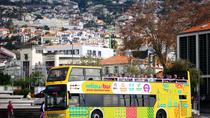 16 Reviews
One ticket, three unforgettable experiences! This combination can last 48 hours or 5 days, depending on your selected option, allowing you to go through 3 ... Read more
Location: Funchal, Portugal
Duration: 2 to 5 days