Anyone who is looking to make the most of Santa Cruz in the Galapagos cannot miss an opportunity to see the Canal del Amor, or the Love Channel. The complete natural adventure, Canal del Amor is not considered a visitor site, but has a spectacular turquoise channel bedded in between mountainous rock. At the channel you can also spot shore birds and reef sharks, or if you have the means, have a swim or go snorkeling, and explore its diverse and plentiful aqua-life and flora.

In the same afternoon, from here you will be able to explore the beautiful La Loberia island and of course, Port of Punta Estrada, where you can get to know the sea iguanas.
Practical Info
The best way to score a tour of the Canal del Amor is to book an as an inclusive package that visits other sites as well. A multi-day bay and boat tour will give you the greatest chance of most efficiently seeing as much of the majestic Galapagos as you can during your stay.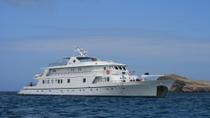 21 Reviews
Take a 4- or 5- day trip to the Galapagos Islands aboard a yacht! Explore different islands, and see their amazing array of plant and animal life, ... Read more
Location: Galapagos Islands, Ecuador
Duration: Varies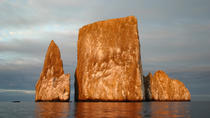 6 Reviews
Departing from Santa Cruz island, you'll spend the day exploring two famous Galapagos sites. In the morning, relax on the beautiful Tortuga Bay beach, then, in ... Read more
Location: Galapagos Islands, Ecuador
Duration: 4 hours (approx.)
Join this tour to Santa Cruz-Bahia Islands and visit Loberia, Canal de Tiburones, Canal del Amor, La Grieta y La Playa de Los Perro.
Location: Santa Cruz, Ecuador
Duration: 4 hours (approx.)