This white sandy beach area is one of the most famous in the Galapagos, both for its beauty and for its wildlife. Sightings of marine iguanas, sea lions, crabs, birds and, of course, turtles are frequent. 
There are two main stretches of beach; the first is popular for surfing, though currents can be strong, while the second is more conducive to swimming and snorkeling. Colorful reef fish, rays and white tip reef shark have all been spotted here.
To get to Tortuga Bay, you must hike a stone and boardwalk path through trees and cacti, where you might spot some of the Galapagos' famous birds, such as flamingos, finches, pelicans and the blue-footed booby. Whether you come for the sand or the wildlife, Tortuga Bay is one of the Galapagos' best offerings for both.
Practical Info
Located on the Santa Cruz island, Tortuga Bay Beach is accessible via a 20-minute walk (1.55 miles) from Puerto Ayora. The path is open from 6 a.m. to 6 p.m., and visitors must sign in with the Galapagos Park Service office. There is no admission fee.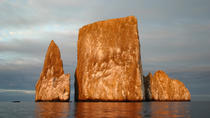 7 Reviews
Departing from Santa Cruz island, you'll spend the day exploring two famous Galapagos sites. In the morning, relax on the beautiful Tortuga Bay beach, then, in ... Read more
Location: Galapagos Islands, Ecuador
Duration: 4 hours (approx.)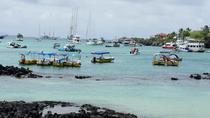 2 Reviews
Galápagos Islands, highland part of Santa Cruz Island (Includes lava Tunnels and a turtle reserve), Tortuga Beach & Bay Tour.
Location: Galapagos Islands, Ecuador
Duration: 4 days (approx.)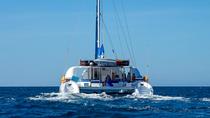 5 Reviews
Dreamed of sailing and exploring the Galapagos Islands at the same time? This 4-day catamaran cruise aboard the 'Nemo I' fulfills your wish. Discover the ... Read more
Location: Galapagos Islands, Ecuador
Duration: 4 days (approx.)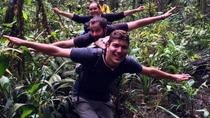 The Cuyabeno Wildlife Reserve. Ecuador designated the 603.380 square kilometres (2,329.7 sq mi) a protected wildlife zone since July 26th, 1979. This positive ... Read more
Location: Nueva Loja, Ecuador
Duration: 4 days (approx.)
This exclusive offer is tailored for travelers interested in visiting the Galápagos Islands and the Ecuadorean tropical countryside. Great for travelers ... Read more
Location: Guayaquil, Ecuador
Duration: 9 days (approx.)
This 8-day program you will experience the highlights of Quito, Capital of Ecuador and the Galapagos Islands. you can choose from Standard to Luxury ... Read more
Location: Quito, Ecuador
Duration: 8 days (approx.)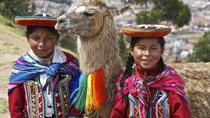 This Ecuador complete budget tour will show you all the highlights of this so diverse country. You won't miss a thing for sure! During this 15-day tour, you ... Read more
Location: Quito, Ecuador
Duration: 14 days (approx.)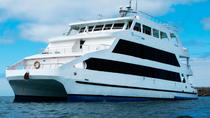 Immerse yourself in the excitement and natural beauty of the Galapagos Islands during this cruise through the South American archipelago. Chose from three ... Read more
Location: Galapagos Islands, Ecuador
Duration: Flexible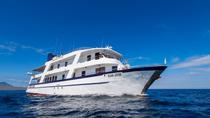 Looking for a Galapagos Islands adventure but short on time? This 4-day cruise aboard the 'San Jose' motor yacht provides just the ticket. Wind through the ... Read more
Location: Galapagos Islands, Ecuador
Duration: 4 days (approx.)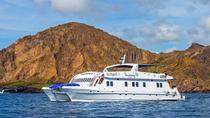 Take part in a once-in-a-lifetime journey aboard the catamaran 'Archipel I', a comfortable motor yacht, as you sail around the UNESCO-listed Galapagos Islands ... Read more
Location: Puerto Ayora, Ecuador
Duration: 4 days (approx.)