The 19 main islands and numerous smaller isles of the Galapagos archipelago present a unique microcosm for some of the world's more spectacularly diverse creatures, with a biodiversity unlike anywhere else on earth. Here's what you need to know about island hopping through this natural wonderland that inspired Charles Darwin.
Day Trips
While most Galapagos visitors tour the islands aboard a multi-day cruise, it's also possible to sleep on dry land and visit various points of interest within the UNESCO World Heritage–listed national park on day trips from one of the four inhabited islands: San Cristobal, Isabela, Floreana, and Santa Cruz. Options include observing the flamingos and finches of beachy Tortuga Bay, and sailing past the sea lions, sea turtles, and white-tipped reef sharks of Loberia Island.
Multi-Day Tours
The biological and geological diversity of the Galapagos Islands are staggering, and the best way to take it all in is during a multi-day tour, usually aboard a boat. Tours range from four to eight days, with visits to some of the archipelago's most iconic destinations. The tour and activity options are plentiful: Observe flamingos in Flamingo Lagoon, hike up Sierra Negra Volcano, see Galapagos tortoises at the Charles Darwin Research Station, kayak past marine iguanas and Galapagos penguins in the bay of Puerto Villamil, or snorkel in the calm waters of Los Tuneles.
Things to Know
Galapagos National Park visitors must be accompanied by a certified tour guide.

Stay on land and day trip to the park, or opt for a multi-day cruise.

Island hopping tours through the Galapagos Islands range from four to eight days.

Don't forget your camera—these islands are teeming with wildlife photo ops.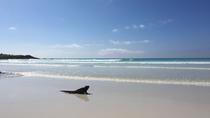 5 Reviews
Experience some of the highlights of the Galapagos Islands, Ecuador's most iconic destination, during boat and hiking tours from your private accommodation ... Read more
Location: Seymour, Ecuador
Duration: 4 days (approx.)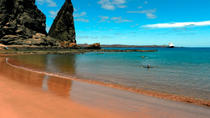 The Galapagos Island hopping hotel-based tour features an extensive itinerary which allows you to explore 4 different islands moving by small boats, hiking ... Read more
Location: Galapagos Islands, Ecuador
Duration: 8 days (approx.)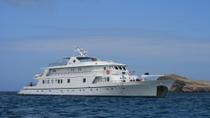 21 Reviews
Take a 4- or 5- day trip to the Galapagos Islands aboard a yacht! Explore different islands, and see their amazing array of plant and animal life, ... Read more
Location: Galapagos Islands, Ecuador
Duration: Flexible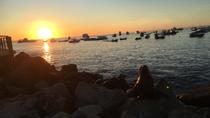 5 Reviews
This beautiful journey will take you to amazing landscapes located at 621mi (1,000km) away from the South American continent in the Pacific Ocean. These 19 ... Read more
Location: Galapagos Islands, Ecuador
Duration: 8 days (approx.)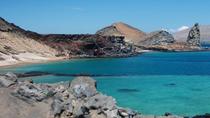 6 Reviews
Located in the Pacific Ocean and made up of 19 islands, the Galapagos are a wonderful natural place and have been called a unique living museum and showcase of ... Read more
Location: Galapagos Islands, Ecuador
Duration: 5 days (approx.)
2 Reviews
This 7-Day tours takes you to the highlights of Santa Cruz Island, Isabela Island and Santa Fe Island in the Galapagos Archipel. The first step in your ... Read more
Location: Galapagos Islands, Ecuador
Duration: 7 days (approx.)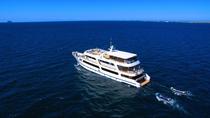 This 6-day cruise through the Galapagos Islands was tailor-made for wildlife enthusiasts with a taste for luxury. Sail around the western side of the ... Read more
Location: Galapagos Islands, Ecuador
Duration: 6 days (approx.)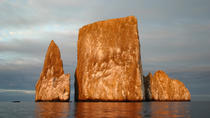 7 Reviews
Departing from Santa Cruz island, you'll spend the day exploring two famous Galapagos sites. In the morning, relax on the beautiful Tortuga Bay beach, then, in ... Read more
Location: Galapagos Islands, Ecuador
Duration: 4 hours (approx.)