So varied is the native wildlife of Ecuador's Galapagos Islands that it inspired Charles Darwin's Theory of Natural Selection and the 19 main islands and numerous smaller isles present a unique microcosm of the world's spectacularly diverse creatures.  Watch sea turtles hatch on the beaches of Seymour Island, snorkel amidst shoals of tropical fish, shellfish and sharks off the shore of Bartolome Island, or visit La Galapaguera, home of the Galápagos Tortoise on Floreana Island.

Most travelers will fly into the main airport of Baltra but to get around the islands, you'll need to pre-book a tour by boat or seaplane. The easiest way to explore is on a multi-day island cruise, but if you'd prefer to sleep on dry land, day tours and multi-day island-hopping tours will allow you to get off-the-beaten-track while staying overnight on the 4 inhabited islands  (San Cristóbal, Isabela, Floreana & Santa Cruz). 5-night tours are an ideal way to check off all the highlights of the Galapagos while still having plenty of time to catch your breath, including a 3-night cruise sleeping on board a yacht as you travel out to the furthest islands.

If you fancy attempting a DIY island-hopping trip, you'll still need to be in the company of a certified tour guide to explore most of the UNESCO World Heritage listed National Park, so opt for a private yacht tour which will allow you to customize your route and spend more time enjoying your chosen activities. Hike on the Island of the Thousand Volcanoes, stop to snap photos of the famous Galápagos penguins, or sail out to some of the lesser-visited isles.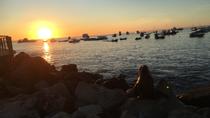 1 Review
This beautiful journey will take you to amazing landscapes located at 621mi (1,000km) away from the South American continent in the Pacific Ocean. These 19 ... Read more
Location: Galapagos Islands, Ecuador
Duration: 8 days (approx.)
This 7- or 8-Day takes you to the highlights of Santa Cruz Island, Isabela Island and Floreana or Santa Fe Island in the Galapagos Archipel. The first step in ... Read more
Location: Galapagos Islands, Ecuador
Duration: 8 days (approx.)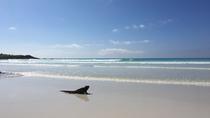 2 Reviews
Experience some of the highlights of the Galapagos Islands, Ecuador's most iconic destination, during boat and hiking tours from your private accommodation ... Read more
Location: Seymour, Ecuador
Duration: 4 days (approx.)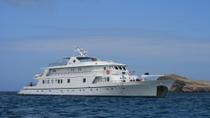 21 Reviews
Take a 4- or 5- day trip to the Galapagos Islands aboard a yacht! Explore different islands, and see their amazing array of plant and animal life, ... Read more
Location: Galapagos Islands, Ecuador
Duration: Varies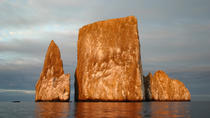 6 Reviews
Departing from Santa Cruz island, you'll spend the day exploring two famous Galapagos sites. In the morning, relax on the beautiful Tortuga Bay beach, then, in ... Read more
Location: Galapagos Islands, Ecuador
Duration: 4 hours (approx.)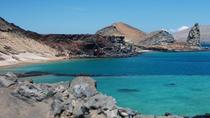 6 Reviews
Located in the Pacific Ocean and made up of 19 islands, the Galapagos are a wonderful natural place and have been called a unique living museum and showcase of ... Read more
Location: Puerto Ayora, Ecuador
Duration: 5 days (approx.)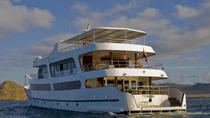 This 6-day cruise through the Galapagos Islands was tailor-made for wildlife enthusiasts with a taste for luxury. Sail around the western side of the ... Read more
Location: Galapagos Islands, Ecuador
Duration: 6 days (approx.)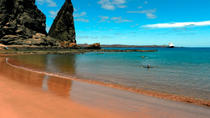 The Galapagos Island hopping hotel-based tour features an extensive itinerary which allows you to explore 4 different islands moving by small boats, hiking ... Read more
Location: Galapagos Islands, Ecuador
Duration: 8 days (approx.)