With the wild and rugged landscapes of Ireland's west coast on its doorstep, Galway City is a great starting point for scenic escapes. From sheer coastal cliffs to remote islands where tradition reigns, here are a few of the best day trips from Galway.
Cong – 26 miles (42 km) away
A charming country village straddling the border between County Galway and County Mayo, Cong enjoys a picturesque setting between two lakes. Little has changed since The Quiet Man was filmed here back in 1951, and traditional thatched roof cottages seen in the film still stand.
Aran Islands – about 28 miles (45 km) away
Reachable by ferry or seaplane from Rossaveal and Doolin, the Aran Islands—Inishmore, Inishmaan, and Inisheer—seem to be stuck in a time long passed. Listen out and you'll hear locals speaking Irish among themselves, pony traps clip-clopping along the road, and the sound of traditional music coming from local pubs.
The Burren – 42 miles (66 km) away
A 62-square-mile (160-square-kilometer) jigsaw of limestone lunar-esque rocks, this unusual region—characterized by karst terrain, crevices, and fissures—may appear bare and barren, but it is in fact teeming with life. Some 700 species of plants and ferns sprout here, with wildflowers putting on a colorful display every spring.
Cliffs of Moher – 47 miles (75 km) away
Located south of Galway in County Clare, this UNESCO World Heritage–listed site is among Ireland's most famous beauty spots. The wind-worn cliffs extend for five miles (8 kilometers) and rise to a height of 702 feet (214 meters) above the seething and swirling Atlantic waves. Explore the modern visitors center, climb to the observation deck of the 19th-century O'Brien's Tower, or hike the coastal road.
Connemara – about 50 miles (80 km) away
Encompassing bogland, heath, forests, and several of the Twelve Ben peaks, Connemara National Park presents some of the best hiking opportunities in Ireland. As well as walking trails, the rural Connemara region also has historic attractions including the castle-like Kylemore Abbey and Ross Errilly Friary, one of Ireland's best preserved Franciscan friaries.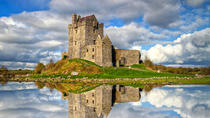 257 Reviews
Leave Galway and head to the incredible Cliffs of Moher that sit on Europe's most westerly tip! Traveling south by luxury coach, pass quaint coastal towns and ... Read more
Location: Galway, Ireland
Duration: 8 hours (approx.)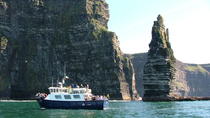 151 Reviews
Visit two of Ireland's top natural attractions—the Aran Islands (Inisheer) and the Cliffs of Moher—in one day on this tour from Galway. You'll take in the ... Read more
Location: Galway, Ireland
Duration: 10 hours 30 minutes (approx.)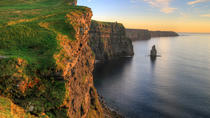 63 Reviews
On your journey South to the Cliffs of Moher, listen to your expert driver/guide share the history of the Burren region, an area of exposed limestone terrain, ... Read more
Location: Galway, Ireland
Duration: 7 hours 30 minutes (approx.)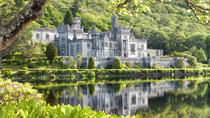 109 Reviews
Discover the dramatic beauty of Connemara with its rugged wilderness, welcoming locals and historic treasures, on this full-day trip from Galway city. ... Read more
Location: Galway, Ireland
Duration: 8 hours (approx.)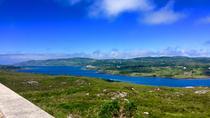 20 Reviews
Our Connemara National Park, Kylemore Abbey, tour takes in all the highlights of Connemara along the Wild Atlantic Way.
Location: Galway, Ireland
Duration: 9 hours (approx.)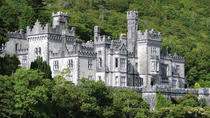 16 Reviews
A full day, guided tour of Connemara, an area famed for it's unspoiled natural beauty and rugged landscapes. Spend time exploring the iconic Kylemore Abbey and ... Read more
Location: Galway, Ireland
Duration: 7 hours 30 minutes (approx.)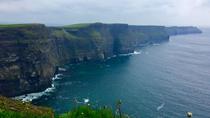 9 Reviews
Traveling south along the Wild Atlantic Way, destination: The Cliffs of Moher via Dunguaire Castle, The Burren, Corcomroe Abbey, Ballyvaughan, Lisdoonvarna and ... Read more
Location: Galway, Ireland
Duration: 8 hours (approx.)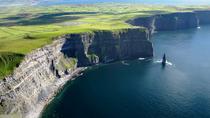 4 Reviews
Join this spectacular journey along the breathtaking Wild Atlantic Way, through the lunar-like landscape of the Burren and on to the iconic Cliffs of Moher. ... Read more
Location: Galway, Ireland
Duration: 1 day (approx.)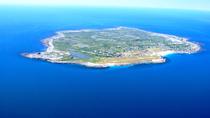 Join this spectacular journey along the breathtaking Wild Atlantic Way, through the lunar-like landscape of the Burren and on to the iconic Cliffs of Moher. ... Read more
Location: Galway, Ireland
Duration: 1 day (approx.)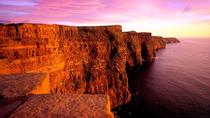 3 Reviews
This breathtaking tour gives you a minimum 5-hour stop at the iconic Cliffs of Moher, to walk, photograph, explore or quite simply to relax and enjoy a day at ... Read more
Location: Galway, Ireland
Duration: 1 day (approx.)