Gruyères
Cheese lovers have likely already penciled Gruyères at the top of their itinerary, but the pretty medieval town has more to offer than its long history of cheese making. Boasting an idyllic alpine setting in the Canton of Fribourg, Gruyères is undeniably photogenic, with its sloping cobblestone streets and beautifully preserved medieval buildings. The car-free town lies in the shadows of the 13th century Château de Gruyères, the one-time home of the Counts of Gruyères, and along with exploring the castle, popular pastimes for visitors include hiking in the surrounding hills or visiting the Château de St-Germain, now home to a collection of works by Swiss surrealist HR Giger.

Of course you can't leave town without sampling some of the town's namesake cheese and the best way to discover the secrets of Gruyères cheese is with a visit to La Maison du Gruyère. Part factory, part museum, this is one of the town's top attractions, where you can watch traditional cheese making methods, enjoy free samples or dig into Gruyères Fondue at the on-site restaurant.
In Pre-Alps around thirty km from Fribourg, come to discover this small medieval village perched on a rocky spur, which dominates the "Sarine Valley". We will ... Read more
Location: Hermance, Switzerland
Duration: 5 hours (approx.)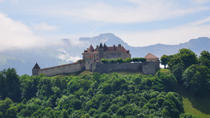 17 Reviews
Combine your love of chocolate and cheese with your passion for travel on this day trip to Gruyères from Geneva. Travel by comfortable coach to the ... Read more
Location: Geneva, Switzerland
Duration: 8 hours (approx.)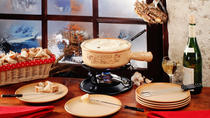 Our mission is to delight your senses in a unique journey and leave an unforgettable memory for life of Gruyère.
Location: Geneva, Switzerland
Duration: 10 hours (approx.)