Via Garibaldi Tours
One of the most famous historic streets in the center of Genoa is the Via Garibaldi. This street has had a few names over the centuries, but it's always been a fashionable address.
What we know today as Via Garibaldi was first built in the mid-1500s, when it was called Strada Maggiore – or "Great Street." Later, it became known as "Strada Nuova," or "New Street." It was renamed in 1882 for Italy's great revolutionary leader, Giuseppe Garibaldi, and in 2006 the street and the historic palaces on it were added to UNESCO's list of World Heritage Sites.
From the time when the Via Garibaldi was first designed and built, it was intended to be a street upon which the wealthy families of Genoa would build their homes. The street was soon lined with palaces, each occupied by a noble family, and many passed down through generations and hundreds of years. Today, several of those former private homes are now public museums and galleries, and the entire street is a feast for the architecturally inclined.
Some of the palaces you can visit along the Via Garibaldi are the Palazzo Rosso, the Palazzo Bianco, and the Palazzo Doria Tursi. Some of the buildings are not open to the public, but with a good guided tour of Genoa you'll be sure to not miss any of the ones you can get into – many of which have beautiful old frescoes on internal walls.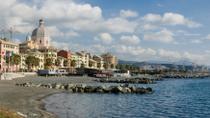 46 Reviews
Explore the birthplace of Christopher Columbus, savor the excellent cuisine and see the beautiful sights with this 48-hour ticket aboard an open-top, ... Read more
Location: Genoa, Italy
Duration: 2 days (approx.)