3 Days in Genoa: Suggested Itineraries
By Viator, February 2015
Genoa is a great city in which to spend a few days, mostly because you can take your sightseeing relatively slowly and still have time for a top-notch day trip. The city rarely features on Italy itineraries, so although it's by no means off the tourist radar (it is, after all, a major cruise port) you can time your visit to avoid cruise season and feel like you've gotten away from the bulk of the tourist crowds.
Here are some ideas of ways to spend three days in Genoa.
Day One: Get a Lay of the Land


When you're in a new city for the first time, the best things you can do to start with are get acquainted with your surroundings. Genoa isn't a small city, so you may want to jump on the upper deck of a hop on, hop off bus tour to save your feet from aching too much by day's end.
Even if you do opt for a bus tour, however, you really shouldn't miss the opportunity to stroll along Genoa's main promenade, the Corso Italia. It runs along the seafront, and will give you a good sense of how closely tied to the water this city has always been.
You can walk 1.5 miles on the Corso Italia all the way to the little fishing village of Boccadasse, which gives you a chance to see what a small Genoa neighborhood looked like before it was a big city and also to take advantage of nice weather.
If you don't want to walk all the way to Boccadasse but your feet still have some life in them, then head for the historic city center. Parts of old Genoa are on the UNESCO World Heritage Site, and although there's a very modern (and very large) city that's grown up since medieval times, you can pretend none of that exists by just focusing your attention on the historic center for awhile. (You'll branch out later, don't worry about that.) Don't miss Genoa's beautiful cathedral, the Palazzo Ducale, and the Church of San Matteo.
Day Two: Museums & Aquariums


There are several museums worth checking out on the fashionable Via Garibaldi in Genoa's historic center. These museums and galleries were once private palaces – the entire street is lined with buildings that used to be the homes of Genoa's wealthy families – and they give you a fantastic look not only at some beautiful artwork but also how noble families lived in the 17th and 18th centuries. The architecture buffs among you will also love just wandering along the Via Garibaldi admiring the buildings themselves.
Get out of the warren of centuries-old streets with a breather in the Piazza de Ferrari in the heart of Genoa. You can see architectural styles changing here, from the ornate former stock exchange building to the more austere opera house, before moving on to the redesigned old harbor.
Genoa's ties to the sea are on display again here. The old harbor was redesigned in the 1990s, and now features one of the largest aquariums in Europe as well as a maritime museum with an excellent rooftop space for taking in the sea views.
Another spot for enjoying a sweeping view is from the terrace of La Lanterna, Genoa's iconic lighthouse. You can climb up to the first level of the lighthouse on weekends.
Day Three: Should you stay or should you go?


You've just spent two days enjoying Genoa, so you have a choice to make – do you stay and explore the city a bit more, or do you head out for a day trip? Both options have their merits, so here are some ideas for both.
If you'd like to stay in Genoa, you can embrace the city's association with exploration of far-away places by visiting the Chiossone Museum of Oriental Art. This collection of more than 15,000 pieces of Asian art is one of the top such collections in Europe.
This could also be a great day to walk the full length of the Corso Italia (if you weren't up to it on day one), having lunch in Boccadasse before returning to Genoa. Or you could take a cooking class to learn how to make some of the fantastic dishes you've been savoring during the last two days.
For those of you who'd like to get out of the city, you could go to the picturesque town of Portofino for high-end shopping and leisurely dining. You could travel further along the Ligurian coast to the famous five villages of the Cinque Terre, where you could do some hiking between the towns. You could even plan a longer day trip into Milan for some serious shopping, or to see Leonardo da Vinci's "The Last Supper."
After three days in Genoa, you may find that there's more to explore in the city than you had imagined at first – and it's very unlikely you'll be bored.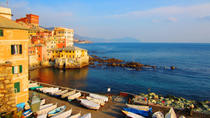 90 Reviews
See the best of the Italian Riviera on your Genoa and Portofino full-day trip from Milan! After a guided walking tour of Genoa, explore the best bits of these ... Read more
Location: Milan, Italy
Duration: 12 hours (approx.)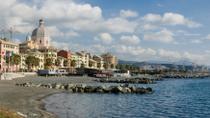 33 Reviews
Explore the birthplace of Christopher Columbus, savor the excellent cuisine and see the beautiful sights with this 48-hour ticket aboard an open-top, ... Read more
Location: Genoa, Italy
Duration: 48 Hours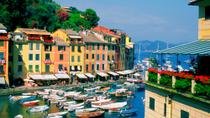 2 Reviews
Combine rugged coastal scenery with chic seaside towns on a 4-day tour of Liguria in northern Italy! After leaving Milan, head to Genoa – Liguria's ... Read more
Location: Milan, Italy
Duration: 4 days (approx.)