Ligurian Cuisine of Genoa
By Viator, February 2015
No reviews, be the first!
Italy is well-known for its cuisine, and you may already be familiar with just how regional Italian food is – a dish that's popular in one town may not exist 10 miles away, or the recipe may be completely different. Eating what's local and seasonal, then, is a window into the city or region you're visiting.
In Genoa, you've got a bounty of great choices on any menu. Here are some of the Ligurian specialties you should look for when you sit down to a meal in Genoa.
Pesto – Pesto is one of the most famous Ligurian culinary exports. Basil grows fantastically well along the Ligurian coast, and features prominently in many dishes. You'll be hard-pressed to find fresher pesto than in Genoa during the summer. It's traditionally served on long, thin pasta similar to spaghetti or fresh pasta that's rolled thin but has much shorter noodles.

Focaccia – Another famous Ligurian export is focaccia, the delicious flat bread that's excellent simply dressed with olive oil and salt. You'll find other toppings used as well, and it's one of Genoa's popular snacks to eat on the go.

Farinata – Chickpea flour is commonly used in Liguria, and is the main ingredient in this flat bread. It's similar to focaccia, but without the wheat. This is also a popular street food.

Anchovies – Fresh anchovies are one of the staples pulled out of the sea along the Ligurian coast. They're particularly common in the Cinque Terre, but you'll also see them on menus in Genoa. If you've only had the oily and salty version from a tin can, taste them again. When they're fresh, they're entirely different.

Fresh Fish – Other fish you may see on menus in Genoa are orata and branzino, white fish that can be served whole.

"Frutti di Mare" - This means "fruit of the sea," and you may see it as a sort of "mixed grill" item on a menu, or as a pasta sauce with mixed seafood.

Corzetti – Many regions of Italy have unique pasta shapes, and Liguria is no exception. Corzetti are round discs of pasta that are made fresh and stamped with a wooden tool to give each one a design.

Salsa di Noci – This "nut sauce" is basically a pesto made of walnuts, garlic, and cream that goes over pasta.

Cima alla Genovese – If you're a carnivore who's up for a dining challenge, then cima alla genovese might be ideal for you. It's a veal breast stuffed with vegetables, cheese, eggs, and some of the internal organs of the cow.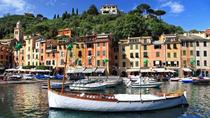 2 Reviews
When your cruise ship docks in Genoa, enjoy a private shore excursion to Portofino and Santa Margherita Ligure. On this full-day trip, discover Portofino -- a ... Read more
Location: Genoa, Italy
Duration: 9 hours (approx.)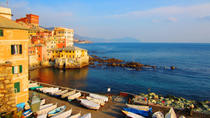 90 Reviews
See the best of the Italian Riviera on your Genoa and Portofino full-day trip from Milan! After a guided walking tour of Genoa, explore the best bits of these ... Read more
Location: Milan, Italy
Duration: 12 hours (approx.)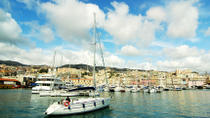 28 Reviews
Spend your time in port in Genoa by exploring the birthplace of Christopher Columbus, savoring the excellent cuisine and seeing the beautiful sights with your ... Read more
Location: Genoa, Italy
Duration: Valid for 48 hours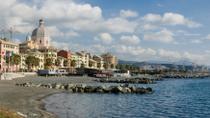 33 Reviews
Explore the birthplace of Christopher Columbus, savor the excellent cuisine and see the beautiful sights with this 48-hour ticket aboard an open-top, ... Read more
Location: Genoa, Italy
Duration: 48 Hours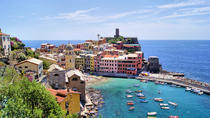 1 Review
The moment your cruise ship arrives in port in Genoa, your private shore excursion to Cinque Terre begins. Discover the unique landscape with dry-laid stone ... Read more
Location: Genoa, Italy
Duration: 9 hours (approx.)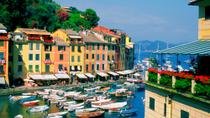 2 Reviews
Combine rugged coastal scenery with chic seaside towns on a 4-day tour of Liguria in northern Italy! After leaving Milan, head to Genoa – Liguria's ... Read more
Location: Milan, Italy
Duration: 4 days (approx.)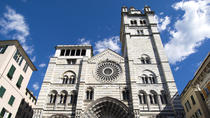 While in port in Genoa, take a private sightseeing shore excursion to explore this beautiful Italian city. Known as 'La Superba,' Genoa is the birthplace of ... Read more
Location: Genoa, Italy
Duration: 9 hours (approx.)