Best Day Trips from Goa
By Viator, June 2013
No reviews, be the first!
Since Goa is an entire state, rather than just a city, most travelers choose to base themselves in one of the main areas and then take excursions to other parts of the state. When you need a break from basking on the beach, here are a few options for day trips in Goa.
Deep Sea Fishing
When it comes to sport fishing, the deeper the water, the bigger the fish. Heading out on the calm Atlantic waters near Goa makes for an interesting and fun day trip, and if you get lucky, you might come home with salmon, tuna, red snapper, barracuda or cod. Once your fishing boat brings you back to shore, you'll find restaurants along many of Goa's beaches who will be happy to cook up your catch for you.
Snorkeling & Diving
If you'd rather see some fish than eat them, consider spending a day snorkeling or diving in the waters off the coast of Southern India, where visibility can reach up to 100 feet. Diving is possible from October through mid-May, and you'll find a wide variety of reef fish, coral, Nudibranch, turtles and even reef sharks from time to time.
Sahakari Spice Farm
Goa is second only to Kerala when it comes to spice production, and touring the Sahakari Spice Farm is an excellent way to learn about the distinctive flavors of Indian cuisine. A typical day trip to a spice farm includes a tour of the gardens, where you'll learn how to identify different spices and about how they're grown and harvested, a crash course in the culinary and medicinal uses of each spice and a chance to sample some local dishes prepared with spices grown on the farm. Make sure to pick up your favorites to take home with you.
Dr. Salim Ali Bird Sanctuary
If you need a day to escape the constant din of humanity on Goa's popular beaches, take a day trip to Dr. Salim Ali Bird Sanctuary, located near the capital city of Panaji. During a boat tour of the sanctuary's mangrove forest, it's possible to spot some 400 species of local and migratory birds, particularly between October and March when birds from the far north winter in India.
Backwater Cruise
For a closer look at rural Goan life, take a backwater cruise along the Cambarjua Canal. Along the way, you'll get to see local fishermen at work, spot crocodiles sunning on the muddy banks or do some bird-watching.
Read about other
cruises and water tours in Goa
.
Contributed by Lydia Schrandt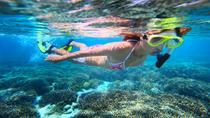 Enjoy snorkeling, swimming and dolphin-spotting on a full-day trip to Grande Island in Goa. Cruise out on the Arabian Sea and look for dolphins on the way to ... Read more
Location: Goa, India
Duration: 7 hours (approx.)