Wildlife Near Goa
By Viator, June 2016
Goa might be best known for its beaches and colonial architecture, but travelers looking to reconnect with nature will find ample opportunity, thanks to Goa's waters, rainforest and backwater canals.
The Cambarjua Canal, one of Goa's main backcountry waterways, serves as the lifeblood of not only the people living along its banks, but of abundant wildlife as well. Most notably, crocodiles and a variety of wading birds make their homes on the muddy shores. The best way to enjoy the wild sights of the Cambarjua Canal is on a Eco-Adventure in Goa, where you'll cruise along the backwater canal with an expert guide to help you spot wildlife hiding in the brush.
If there's one animal India is famous for, it's the elephant, and the trill of riding one of these majestic creatures is the highlight of a visit for many visitors. While you probably won't be seeing any wild elephants, it's possible to combine a wildlife excursion along the Cambarjua Canal with a tour-by-elephant of a nearby spice plantation, followed by an opportunity to help bathe these gentle giants.
To truly experience the wild diversity of Goa, you'll have to head into the jungle, and one of the best places to do so is in Mollem National Park. On a 2-Day Private Tour, you'll embark on a guided safari through Goa's largest protected area, with the opportunity to see bonnet macaques, flying squirrels, wild boar, spotted deer and if you're really lucky, maybe even a panther. Mollem National Park is also home to Dudhsagar Falls, one of the most impressive waterfalls in the country and a great place to go for a swim.
8 Reviews
Discover the wilderness of Goa on a full-day tour to a wildlife preserve where you ride and bathe with elephants. Visit a beautiful jungle camp inside Bhagwan ... Read more
Location: Goa, India
Duration: Approximately 7-8 hours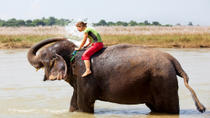 2 Reviews
Appreciate the natural beauty of Goa on this full-day adventure that includes an exciting crocodile-spotting tour, an elephant ride and a spice plantation ... Read more
Location: Goa, India
Duration: 9 hours (approx.)