Australia's Gold Coast is a playground of theme parks, high rises, glitzy shopping malls and the most aggressive tourism development in the country. While all that is part of the appeal, sometimes you just need a break, and these day trips from the Gold Coast provide just that.
Fraser Island
Fraser Island, a UNESCO-listed site, is the world's largest sand island and a great place for a nature-filled day trip. Spend your day strolling the beaches, swim in a freshwater lake and trek through the rain forests in hopes of spotting a dingo in its natural habitat.
Moreton Island
Moreton Island, the third largest sand island in the world, is ninety-percent covered by national park and is home to Mt Tempest, the planet's highest coastal sand hill. Snorkelers will find a variety of colorful life at the Tangalooma Wrecks off the western coast, while plentiful sand dunes make for excellent sand boarding.
Stradbroke Island
Stradbroke Island, or Straddie as the locals call it, is a slice of paradise just a bit more developed than Moreton. This second largest sand island in the world sits about 35 minutes from the Gold Coast, making it a convenient choice for water sports or wildlife spotting.
Byron Bay
For a more cultural day trip from Gold Coast, head into New South Wales for a visit to trendy and laid back Byron Bay. Here, you can visit Australia's most easterly point, do some shopping, grab lunch at a beachside cafe or spend the day surfing or sunning on some of Australia's best beaches.
Lamington National Park
UNESCO-listed Lamington National Park includes 49,915 acres (20,200 hectares) of biologically rich protected forest ranging from subtropical rainforest to much drier eucalyptus forest. On a day trip from Gold Coast, it's possible to canopy walk, birdwatch or trek from O'Reilly's Rainforest Retreat.
Mt Tamborine National Park
More of a night trip than a day trip, Mt Tamborine National Park is home to Australia's only nighttime rainforest tour. After sundown, head into the eucalyptus forest to spot wildlife by flashlight as you hike to a waterfall where you can see glow worms light up the night.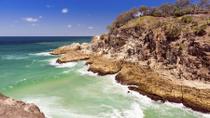 72 Reviews
Discover the beaches and wildlife of Queensland on a guided day trip to North Stradbroke Island, just a short hop from Brisbane. Famous for its natural ... Read more
Location: Brisbane, Australia
Duration: 9 hours (approx.)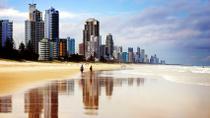 30 Reviews
Explore the diversity of the Gold Coast on a day trip that includes the sights of Surfers Paradise, a cruise along the canals to see the luxury waterfront ... Read more
Location: Brisbane or Gold Coast, Australia
Duration: 8 hours (approx.)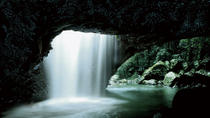 27 Reviews
Travel into the Gold Coast hinterland to view the spectacular sight of one of Australia's largest glow worm colonies, located within Natural Bridge Cave. On ... Read more
Location: Gold Coast, Australia
Duration: 3 hours (approx.)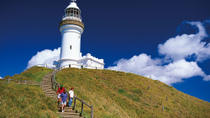 14 Reviews
Take a day trip to trendy Byron Bay and relax at a cafe, indulge in some retail therapy or spend time at the beach. You'll enjoy a scenic drive down the coast ... Read more
Location: Gold Coast, Australia
Duration: 9 hours (approx.)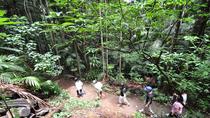 4 Reviews
Join the Outback Tracks tour and discover waterfalls cascading into mountain streams, thick green rainforests alive with native birds and animals and the ... Read more
Location: Gold Coast, Australia
Duration: 4 hours 30 minutes (approx.)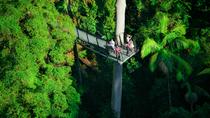 1 Review
Discover the charming mountain community of Mt Tamborine, a world away from the bustle of the Gold Coast. Explore the rainforest at Rainforest Skywalk, visit ... Read more
Location: Gold Coast, Australia
Duration: 8 hours 30 minutes (approx.)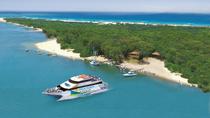 27 Reviews
Spend the day on Stradbroke Island and discover a little bit of paradise just 35 minutes from the Gold Coast by high-speed luxury catamaran. When you get to ... Read more
Location: Gold Coast, Australia
Duration: 5 hours (approx.)