Gran Canaria RECOMMENDATIONS See all
The Canaries' Miniature Continent
By Viator, August 2013
No reviews, be the first!
As the Canaries' second-most populous island, Gran Canaria is famed as more than just a destination for beaches and sunshine, but also one for experiencing some of the most diverse landscape, wildlife and climate around. From waterlogged agricultural land in the north to dune-filled beaches in the south, this third-largest Canary island is a miniature continent filled with loads of things to see and do.

In this paradise with multiple personalities, the most popular draw is undoubtedly the sunny and sandy escapes. Get to know this side of Gran Canaria by visiting its beaches, such as the remote shores of Güi-Güi beach, which can only be reached after a three-hour trek, or the city-side sands of Las Canteras, an urban beach that has been hailed as one of the best in the world.

Gran Canaria transforms from beach into a desert at Maspalomas, though, located on the southern tip of the island. Here, mountains of undulating sand dunes taper into an almost-endless shoreline. Go there to enjoy the sea and sand, the desert-like atmosphere, or simply for a walk around the neighboring lighthouse and restaurants.

Beyond the beach and desert, you can traverse the Gran Canaria wilderness by embarking on the many trails that crisscross the island. Expect a variety of tracks, ranging from a trek to Roque Nublo, the monolith that rises 80 meters above the Caldera de Tejeda, to the lush pine forests found in Ojeda, Inagua and Pajonales Natural Park (also ideal for birding). Whatever your skill level, it is advised to visit a tourism office for hiking information and recommendations, as not only can landscape change quickly, but so can the weather.

And diversity still abounds beyond just Gran Canaria. While visiting the Canary Islands, you can windsurf waves in Fuerteventura, wander lava fields in Lanzarote, and scale the world's third-highest volcano in Tenerife. Indeed, if Gran Canaria is a miniature continent, then the Canaries might just be their own little world.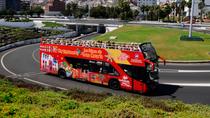 12 Reviews
Experience the perfect introduction to Las Palmas aboard this City Sightseeing hop-on hop-off bus tour! You'll see all the beautiful sights of the city in a ... Read more
Location: Gran Canaria, Spain
Duration: Flexible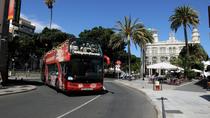 9 Reviews
No matter when your cruise ship arrives in Las Palmas, this is the perfect do-it-yourself shore excursion on Gran Canaria. See Las Palmas' top sights and ... Read more
Location: Gran Canaria, Spain
Duration: Varies