Hacienda El Progreso Tours
On the forested flanks of Mombacho Volcano, high above the cobbled streets of the colonial city of Granada, the family-run Hacienda El Progreso is where Nicaraguan coffee is born. On a tour of this aromatic coffee compound, learn the steps that go into making the perfect cup of coffee—from choosing the soil to plant the trees and methods of roasting the beans, to the best way to grind the coffee and retain the original freshness. The Palazio family has been brewing coffee here since the late 19th century, and as a testament to their love for the land around them, is committed to eco-friendly growing practices that preserve the health of the land. Other activities include eco-tours such as ziplines running through the forest, or you can simply combat the mountainside chill with a freshly poured cup at the café. This is a place to escape the fast pace of either Managua or Granada, and spend some time with a local family who are not only passionate about coffee—but also for retaining the farm's rich culture as coffee moves into the future.
Practical Info
Hacienda El Progreso is approximately one hour from Managua and 20 minutes from Granada. Visitors should bring a light jacket for the cooler mountain temperatures, and closed toed shoes for the zipline tour or exploring the verdant canopy.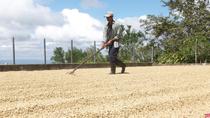 1 Review
Most of us drink coffee every day, but we likely don't put a lot of thought into how the beans are harvested, roasted and packaged for sale. Learn all about ... Read more
Location: Managua, Nicaragua
Duration: 4 hours (approx.)