703 Reviews
Address:

Cuesta de Gomérez, Granada, Spain

Hours:

Open daily 8:30am - 6pm (until 8pm Mar - Oct), open late Fri and Sat evenings. Closed Dec 25 and Jan 1

Admission:

€12. Other areas of the complex have separate admission fees
The Alhambra
The Alhambra is not only Spain's greatest architectural treasure, but one of the world's wonders. It might not wow you right up front like a Taj Mahal or a Great Pyramid, but soon enough that austere exterior reveals a wonderland of musical fountains, cunningly devised gardens and finely carved palaces. 
Its construction was begun in the 11th century on the red hill known as Assabika, which overlooks Granada. The Alcazaba fortress was the first structure to be built, followed by the royal palace and residence of members of the court.

Practical Info
There's a maze of halls and courtyards inside the Alhambra, including the Alcazaba fortress, the Serrallo, the Patio of los Arrayanes (Myrtle Courtyard), the Hall of la Barca, the Salon of the Embajadores (Ambassadors Hall), the Patio de los Leones (Lions Courtyard), the Hall of the Abencerrajes, the Royal Baths and the Palace of Charles V.

Impressive as the buildings are, many find the gardens of the Alhambra the most beguiling part of their visit. The Generalife Gardens were built as a retreat for the Moorish kings of Granada and are rich with flower gardens and water features. It's a tranquil way to end your Alhambra day.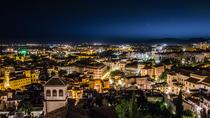 90 Reviews
Explore the Alhambra and Generalife Gardens on this 3-hour guided walking tour with skip-the-line entry. Learn about the Muslim, Christian and Jewish cultures ... Read more
Location: Granada, Spain
Duration: 3 hours (approx.)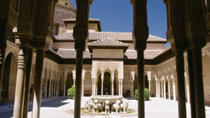 1368 Reviews
Explore Alhambra and the Generalife Gardens on this 3-hour skip-the-line walking tour, led by a professional local guide. With hotel pickup and drop-off from ... Read more
Location: Granada, Spain
Duration: 3 hours (approx.)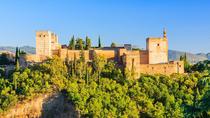 55 Reviews
Experience one of Granada's iconic landmarks without the hassle of large crowds on a Viator Exclusive 3-hour tour of the Alhambra. With a priority-access ... Read more
Location: Granada, Spain
Duration: 3 hours (approx.)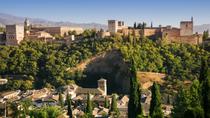 91 Reviews
Skip past the Alhambra's long entrance lines with your private guide and explore this incredible palace complex! Including priority access, this private tour ... Read more
Location: Granada, Spain
Duration: 2 hours 30 minutes (approx.)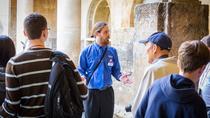 2 Reviews
Visit the Alhambra Palace, Jewel of the Andalusian Heritage and masterpiece of the Muslim art in Europe on this private tour during 2.5-Hour. Discover with ... Read more
Location: Granada, Spain
Duration: 2 hours 30 minutes (approx.)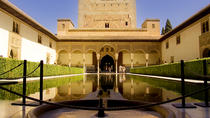 11 Reviews
A beautiful excursion by bus that circles the National Park of Sierra Nevada in order to visit the jewel of the Andalusian Heritage, the Alhambra at Granada. ... Read more
Location: Roquetas de Mar, Spain
Duration: 1 day (approx.)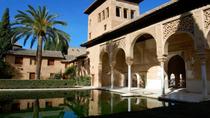 278 Reviews
Visit Granada and the Alhambra Palace, one of the most beautiful architectural marvels in the world, on a day trip from Malaga. Along with the Alhambra and its ... Read more
Location: Malaga, Spain
Duration: 10 hours (approx.)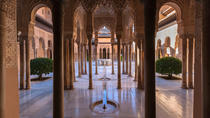 89 Reviews
Combine a visit to the Alhambra, Granada's top historical site, with an afternoon of blissful indulgence at the city's Arab baths -- Hammam Al Andalus. Start ... Read more
Location: Granada, Spain
Duration: 7.5 - 8 hours
458 Reviews
Experience Andalusia's UNESCO World Heritage-listed wonders on this day trip from Seville to Granada. Enjoy skip-the-line entrance to Alhambra ... Read more
Location: Seville, Spain
Duration: 13 hours (approx.)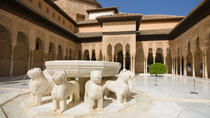 360 Reviews
Take a trip to Granada and the Alhambra Palace, one of the most beautiful architectural marvels in the world, on a day trip from Seville. Granada is home to ... Read more
Location: Seville, Spain
Duration: 12 hours (approx.)