History is alive in Granada's narrow streets, riotous gardens and spectacular monuments, reverberating with echoes of the city's grand Islamic past and its medieval Renaissance. With the majestic Sierra Nevada as its backdrop and the mighty Alhambra and Generalife as its principal calling cards, this Andalucían beauty has captured the heart of many a traveler.
Nothing quite prepares you for the magnificence of Granada's Moorish heritage. The beauty and craftsmanship of the Alhambra…the Generalife's hilltop tranquility…the winding alleys of Albayzín…But don't stop there! Delve a bit deeper, and you'll discover Granada is a city of many charms.
Day 1: The Amazing Alhambra
Set aside a day (and book your ticket well in advance!) to explore this astonishing UNESCO World Heritage site, one of Spain's most visited monuments. Built by Moorish kings in the 13th century to reflect their concept of paradise on earth, the Alhambra combines lovely pools and gardens, architectural ingenuity, and sweeping views to marvelous effect. Many consider the Palacio Nazaries – with its exquisite tiling, courtyards, wood carving and ceilings – to be Europe's most magnificent Islamic building, while Patio de los Leones is renowned for its graceful marble columns and lion fountain. Dating from the 16th century, Palacio de Carlos V is a Renaissance gem.
A short walk north is the wondrous Generalife, a beautiful garden retreat built around the same time as the palace complex. Its sumptuous gardens feature abundant flora, lovely courtyards and stunning water features. Ah, to be a Moorish royal in 13th-century Granada...
Day 2: Granada on Foot
Granada's rich history is best experienced as you wander its timeless streets. Exploring the old Muslim quarter Albayzín is like stepping into the city's Arab past. Mosques and Moorish villas line steep cobbled alleys, and the scent of jasmine fills the air. Climb the Mirador de San Nicolas for breath-taking city views, or take a dip in el bañuelo, an original 11th-century Arab bathhouse. Winding your way south, get ready to be dazzled by Granada's imposing Gothic-Renaissance cathedral and the flamboyant Capilla Real beside it. Feeling energetic? On the outskirts of town lies Sacromonte, an ancient hillside area of cave dwellings, once inhabited by gypsies and now the atmospheric setting for evening flamenco shows.
Day 3: Culture and Nature
Too much architectural eye candy is never enough, and there are a few stunners left for you to discover. Monasterio de San Jeronimo is a Gothic Renaissance treat, while the church at Monasterio de la Cartuja (founded by the memorably named Christian warrior El Gran Capitán,) is a Baroque wonder, complete with extravagant sacristy and beautiful cupola. Literary buffs will love Huerta de San Vincente, the house where Federico Garcia Lorca wrote some of his masterpieces. Need a break from the city bustle? Head for the snowy Sierra Nevada or the lush Alpujarras valley – both close enough that you'll be back in time to hit Granada's buzzing tapas circuit come nightfall.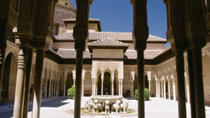 1369 Reviews
Explore Alhambra and the Generalife Gardens on this 3-hour skip-the-line walking tour, led by a professional local guide. With hotel pickup and drop-off from ... Read more
Location: Granada, Spain
Duration: 3 hours (approx.)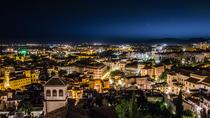 90 Reviews
Explore the Alhambra and Generalife Gardens on this 3-hour guided walking tour with skip-the-line entry. Learn about the Muslim, Christian and Jewish cultures ... Read more
Location: Granada, Spain
Duration: 3 hours (approx.)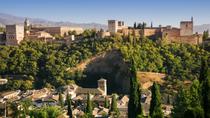 91 Reviews
Skip past the Alhambra's long entrance lines with your private guide and explore this incredible palace complex! Including priority access, this private tour ... Read more
Location: Granada, Spain
Duration: 2 hours 30 minutes (approx.)
2 Reviews
The Alhambra is a Moorish citadella. In its corners the castle hides the stories of three cultures, Muslim, Christian and Jewish. If you want to unravel the ... Read more
Location: Granada, Spain
Duration: 3 hours (approx.)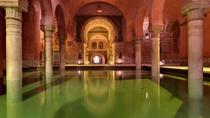 21 Reviews
Soak up the serenity at Granada's Hammam Al Ándalus, magnificent Arabian baths located at the foot of the Alhambra palace complex. Spend 1.5 hours at your ... Read more
Location: Granada, Spain
Duration: 90 minutes (approx.)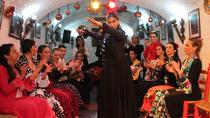 60 Reviews
Watch a flamenco show in a Sacromonte cave in Granada, and then explore the UNESCO World Heritage-listed neighborhood of Albaicin on an evening walking tour. ... Read more
Location: Granada, Spain
Duration: 2 hours 30 minutes (approx.)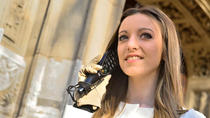 2 Reviews
Visit the jewel of the Andalusian Heritage, the Alhambra of Granada, one of the most visited monument in Spain and masterpiece of the Muslim art in Europe, ... Read more
Location: Granada, Spain
Duration: 2 hours 30 minutes (approx.)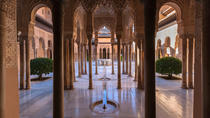 89 Reviews
Combine a visit to the Alhambra, Granada's top historical site, with an afternoon of blissful indulgence at the city's Arab baths -- Hammam Al Andalus. Start ... Read more
Location: Granada, Spain
Duration: 7.5 - 8 hours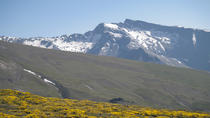 10 Reviews
Discover some of the best secret viewpoints of Granada's Sierra Nevada in a tailor-made 4WD tour. Led by a local guide, pass white mountain villages, lakes, ... Read more
Location: Granada, Spain
Duration: 5 hours (approx.)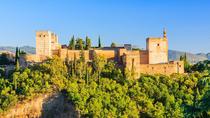 56 Reviews
Experience one of Granada's iconic landmarks without the hassle of large crowds on a Viator Exclusive 3-hour tour of the Alhambra. With a priority-access ... Read more
Location: Granada, Spain
Duration: 3 hours (approx.)