Europe has its castles. Asia has its temples. Australia has its critters and Ayer's Rock. North America is no slouch, though, especially in the Arizona desert. The Grand Canyon is one of the United States' greatest treasures, and perhaps its most magnificent geographic feature. This hugely popular national park attracts some 5 million visitors each year; if you're looking for even just a quick visit to the Grand Canyon, you'll need to plan ahead.

Choose Your Transport

Planning ahead is not as hard as it sounds, though, especially if you go through a tour operator. You can get a backcountry camping permit in order to stay overnight below the canyon's rim, but the park gets more than 30,000 applications a year, awarding only 13,000. Should you be unable to get a permit, you can still camp with a guide. Submit your application at the first of the month, four months prior to the desired month for the best chances.

Another option is a tour, and you can book a self-driven overnight tour through Viator. You'll rent a luxury 4x4 SUV preprogrammed with driving directions and hints for nearby points of interest. Your drive takes you to the West Rim, past Hoover Dam and into the Mojave Desert - be prepared to stop for pictures.

On arrival, you'll have free time to wander around the Hualapai Ranch. Activities here include cowboy demonstrations and a petting zoo,  nd you also have access to stunning views of the Canyon and the Colorado River at Guano Point and Eagle Point. At Eagle Point, you can go out on the Skywalk, a glass-bottomed ledge that juts out over the canyon, giving you a breathtaking perspective of the dizzying drop. The Skywalk is extra, but you can include this in your tour package. From there you'll head to the town of Peach Tree, Arizona and overnight in the Hulapai Lodge.

Grand Canyon Tours

In the morning of your second day, you'll be taken to Diamond Creek for river rafting. Your Hulapai guide will put you to work navigating your raft over the rivers bends and rapids - they range from class 3s to 4s, so be sure you're up for a little adventure. The river run is almost six hours long and at the end of it, you'll have a moderate hike to Travertine Falls. From there, you'll have a helicopter ride back to the West Rim and your rental. Overall, it's a very full day, and the helicopter ride back makes for an awesome finish to an exciting trip.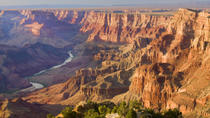 375 Reviews
Experience the scenic beauty of Arizona on this small-group day trip from the Phoenix-Scottsdale area. Visit one of the world's wonders, the Grand ... Read more
Location: Phoenix, Arizona
Duration: 13 hours (approx.)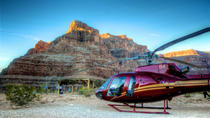 48 Reviews
Experience one of America's most beautiful natural attractions from the air on a helicopter tour of the Grand Canyon's West Rim. View the canyon in all its ... Read more
Location: Grand Canyon West, Arizona
Duration: Varies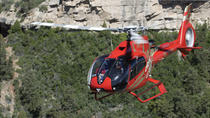 24 Reviews
See the pristine beauty of the Grand Canyon's North Rim by helicopter, and travel through the Kaibab National Forest on a 25- or 45-minute flight and along the ... Read more
Location: Grand Canyon National Park, Arizona
Duration: 3 hours 30 minutes (approx.)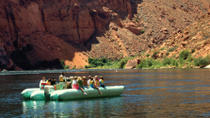 15 Reviews
Your daylong expedition starts at the Grand Canyon Airport (South Rim) with a 1-hour plane ride over the Grand Canyon's East Rim, the Colorado River, and Lake ... Read more
Location: Grand Canyon National Park, Arizona
Duration: 12 hours 30 minutes (approx.)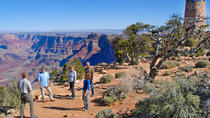 32 Reviews
Leave Tusayan and travel to the South Rim of the Grand Canyon for a scenic jeep tour! Boasting some of the most dramatic views of the UNESCO-listed Grand ... Read more
Location: Grand Canyon National Park, Arizona
Duration: 2 hours (approx.)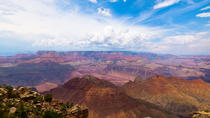 18 Reviews
See some of the most striking scenery the Grand Canyon has to offer on this morning or afternoon fixed-wing airplane flight. Soar over the eastern part of the ... Read more
Location: Grand Canyon National Park, Arizona
Duration: 40 minutes (approx.)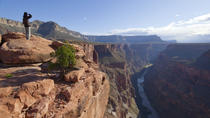 17 Reviews
Departing from the South Rim, this scenic Jeep tour takes you through Grand Canyon National Park along East Rim Drive to show you the Grand Canyon's most ... Read more
Location: Grand Canyon National Park, Arizona
Duration: 2 or 3 hours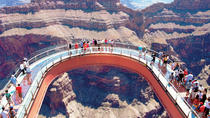 42 Reviews
Savor a comprehensive Grand Canyon experience on this morning or afternoon tour from Las Vegas featuring an airplane ride to the West Rim and optional upgrades ... Read more
Location: Las Vegas, Nevada
Duration: 7 hours (approx.)
865 Reviews
Take the ultimate Grand Canyon tour! You'll fly from Las Vegas to the Grand Canyon by helicopter, cruise the Colorado River, then spend time at the West Rim. ... Read more
Location: Las Vegas, Nevada
Duration: 6 hours 30 minutes (approx.)
366 Reviews
Take off from Las Vegas on a magical sunset helicopter tour to the Grand Canyon. You'll enjoy a 45-minute helicopter flight each way, land at the Grand Canyon ... Read more
Location: Las Vegas, Nevada
Duration: 3 hours 30 minutes (approx.)