For those visiting the Grand Canyon in winter, there are some essential planning tips and recommendations you should keep in mind. During winter the North Rim is closed, although the South Rim is still an excellent option full of scenic hiking trails, fun attractions and amenities like hotels and restaurants.

During the winter, the weather at the Grand Canyon can change dramatically very quickly due to shifts in elevation. Because of this, it's important to pack for all seasons and dress in layers -- including waterproof clothing and wicking undergarments -- that can easily be removed or added, as the sun can make it very warm in certain areas. Although it's rare the entire South Rim is closed due to weather, certain roads and trails may be blocked off temporarily. Make sure to check the Grand Canyon National Park website for up-to-date closures and openings.

There are many things to do at the Grand Canyon during winter. First of all, certain wildlife -- like deer, elk and ducks -- can be easier to spot, as many animals hide in the shade when it's too hot. A bus or air tour is also a smart option during winter as you can sightsee without having to brave the elements outdoors. Indoor attractions like the Grand Canyon IMAX Theater can also enhance your vacation in a warm and entertaining way.

Hiking is a possibility in winter and can offer a serene Grand Canyon experience with less tourists. That being said, be prepared for snow and ice -- possibly needing snow boots or crampons -- in shady sections. You may want to start with a short or beginner hike to get used to the winter conditions. Note the Rim Trail is often recommended as one of the Grand Canyon's easier and more scenic hikes.

If you're visiting near the holidays, there are a number of themed activities to enjoy. Head to El Tovar for a special meal, ride the Grand Canyon's Polar Express to the "North Pole" to meet Santa and his elves, watch a seasonal performance at Grand Canyon University, enjoy holiday decor and shopping in the Grand Canyon Village, and drive out to Hermit's Rest to sip hot cocoa near a decorated Christmas tree and stone fireplace.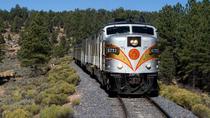 167 Reviews
Step aboard the Grand Canyon Railway for a trip to the majestic Grand Canyon you'll never forget. Feel the rumble of a vintage train as the engine chugs ... Read more
Location: Williams, Arizona
Duration: 8 hours (approx.)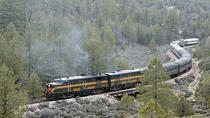 18 Reviews
Take a step back in time as you travel on the historic Grand Canyon Railroad. Each car of this Arizona railroad, which made it's maiden voyage in 1901, has ... Read more
Location: Flagstaff, Arizona
Duration: 10 hours (approx.)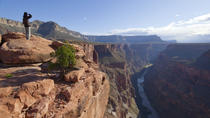 17 Reviews
Departing from the South Rim, this scenic Jeep tour takes you through Grand Canyon National Park along East Rim Drive to show you the Grand Canyon's most ... Read more
Location: Grand Canyon National Park, Arizona
Duration: 2 or 3 hours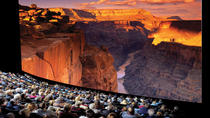 10 Reviews
The larger-than-life Grand Canyon IMAX® experience brings the Grand Canyon to life on a giant six-story screen. The Grand Canyon movie traces the canyon's ... Read more
Location: Grand Canyon National Park, Arizona
Duration: 34 minutes (approx.)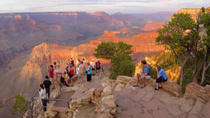 10 Reviews
Journey through the Mojave Desert along historic Route 66 en route to the Grand Canyon South Rim. Your professional tour guide will drive and narrate through ... Read more
Location: Las Vegas, Nevada
Duration: 13 hours (approx.)