What determines a great diving or snorkeling spot? Stuff to see and the visibility mainly. Warm water helps, as does a clam see. Luckily, Turks and Caicos has all these things and so there are many easy options when it comes time to hit the open water. The question then becomes – where to?

The Wall

Head to the western end of Grand Turk and you'll find a great spot just a ten-minute boatride offshore. The action here is where the continental shelf makes its dramatic plunge into the deeper parts of the ocean. Coral arches, dramatic cliffs, and abundant sea life make this a must for divers and snorkelers alike. Night diving is also popular here as the bioluminescence makes for incredible, otherworldly viewing.

Chief Ministers

Just off of Governor's Beach lies one of the most abundant sea life spots in all of Grand Turk. Chief Ministers is home to large amounts of coral, cucumbers, and sponges, while larger fish like groupers, manta rays, eagle rays, and even migratory whales also frequent the spot.

Gibbs Cay

Snorkel and swim with sting rays in Gibbs Cay. These gentle creatures are friendly and allow swimmers to get hands-on experience with one of Mother Nature's most misunderstood creatures. As gentle as a cat, and twice as friendly, Gibbs Cay gives visitors an extraordinary experience that no trip to Turks and Caicos would be complete without.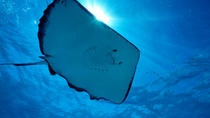 59 Reviews
Visit Gibbs Cay and snorkel among the southern stingrays that inhabit the protected waters of this pristine island! This 2-hour aquatic adventure in Grand Turk ... Read more
Location: Grand Turk, Turks and Caicos
Duration: 2 hours (approx.)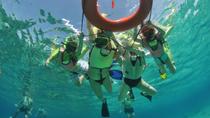 39 Reviews
Snorkel in the world's third largest reef within a protected marine park of Grand Turk! Your boat captain takes you to a shallow reef to practice before ... Read more
Location: Grand Turk, Turks and Caicos
Duration: 2 hours (approx.)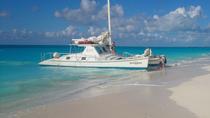 2 Reviews
Set sail for a relaxing Caribbean journey on this half-day cruise and snorkeling excursion from Providenciales. Hop aboard a world-class catamaran, operated by ... Read more
Location: Providenciales, Turks and Caicos
Duration: 4 hours (approx.)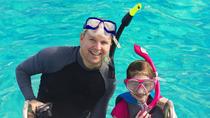 5 Reviews
Learn to dive for conch during a boat excursion on the turquoise waters of Grand Turk. A short boat ride takes you past Gibbs Cay, Round Cay, Long Cay and ... Read more
Location: Grand Turk, Turks and Caicos Islands
Duration: 90 minutes (approx.)