Greece RECOMMENDATIONS See all
Wine Tours in Greece
By Viator, February 2015
No reviews, be the first!
One of history's enduring images is of the Greeks eating grapes and sipping wine - just think of Dionysus, the Greek god of wine and indulgence. One of our contemporary travel dreams is of ourselves sitting in the warmth and beauty of a Greek island sipping a glass of wine. Perhaps it's time then to go back to the source and take a wine tour of Greece, the place where wine originated.

The Ancient Greeks began making wine 6,500 years ago so it's no surprise that all throughout modern Greece you'll find wine growing areas. In the 1970s wine standards were introduced: Onomasia Proelefsis Anoteras Poiotitos (O.P.A.P.), an Appellation of Origin of Superior Quality; Onomasia Proelefsis Eleghomeni (O.P.E.), a Controlled Appellation of Origin; Topikos Oinos, a Vin de pays; and Epitrapezios Oinos, a Vin de table which includes retsina, the traditional Greek white wine flavored with pine resin.

Vines thrive in the land and climate of the Greek islands and coasts and today the main wine growing areas are: the Aegean Islands (Limnos, Paros, Rhodes, Samos, Kos and Santorini); Crete (Archanes, Dafnes, Peza, Sitia); Central Greece (Anchialos, Attica, Rapsani, Thessaly); Epirus (Zitsa); the Ionian Islands (Kefalonia); Macedonia (Amyntaion, Epanomi, Goumenissa, Naoussa); and the Peloponnese (Mantineia, Nemea, Patras). Floral and fruity white wines are a specialty of Greece and not surprisingly complement the fresh seafood of the islands and coast.

Throughout Greece there are wineries open for tours and cellar door sales so whether you're travelling the country from ancient sites or simply lazing and soaking up the Mediterranean sun on a glorious island, add a wine tour to your agenda and you'll feel like a Greek god.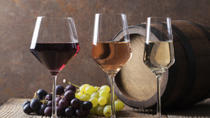 Savor four varietals of wine alongside traditional Crete snacks during a wine tasting at a bistro in Chania. Led by a Cretan wine expert, the 1 hour and 15 ... Read more
Location: Crete, Greece
Duration: 75 minutes (approx.)