It's known as the Spice Isle, but Grenada is also renowned for its stunning waterfalls. Tucked away in the island's mountainous interior, cascades of water tumble down rugged cliffs to gush into pristine swimming pools amid tropical rainforest foliage of palms, mahogany and ivy.

Concord Falls
Concord is perhaps the island's most famous waterfall, and in fact it's a series of three falls. The first one, Concord, is easily reached by car. To visit the other two falls, Au Coin and Fontainbleu, you'll need to strap on your hiking boots, ideally accompanied by a guide, and follow an hour-long trail through the hinterland. The rainforest trail takes you across old stone bridges and fords the river several times. All three falls tumble into refreshing, if icy pools of mountain water.

Annandale Falls
Annandale Falls tumble 9m (30ft) into a lushly carpeted grotto and pool that just begs you to plunge in for a swim. The falls are Grenada's easiest to get to, reached via a well-maintained path When the cruise ships are in, you can expect all kinds of entertainment and vendors to turn up – musicians, monkeys, colorfully dressed locals for photo ops, and local kids throwing caution to the wind as they leap into the pool from atop the falls.

Seven Sisters Falls
The Seven Sisters tumble inside Grand Etang National Park, Grenada's central highlands mecca for hikers and nature-lovers. Hiking trails lead to the falls through the park, passing plantations of nutmeg trees and bananas. The hike takes around 45 minutes, and the pool at the bottom of the falls has large rocks for relaxing. Better yet, take a swim under the falls as they roar and crash into the pool.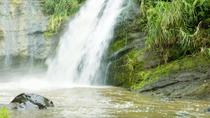 12 Reviews
See the highlights of Grenada on a day tour that takes you nearly all the way around the island, stopping at both natural and historical attractions. Swim at ... Read more
Location: Grenada
Duration: 7 hours 30 minutes (approx.)