Guadalajara RECOMMENDATIONS See all
Mariachis and Charros from Guadalajara
By Viator, June 2014
No reviews, be the first!
The night is warm, the tequila is smooth, and the mariachis, clad in spangled charro outfits, are singing an old tune with that passionate vibrato that epitomizes the wild, sentimental soul of Mexico. This is Mexico. This is Guadalajara.

Along with the equestrian sport of charrería, the romantic and distinctly Mexican musical genre of mariachi grew up in the farm villages and great haciendas outside of Guadalajara. The original mariachis played string instruments and wore homespun clothing. The modern mariachi band, replete with horns and glitzy charro outfits, owes much to the golden era of Mexican cinema, which popularized mariachis and charrería. Pedro Infante, Javier Solis, and other stars of the silver screen sold Mexico on an image of itself—a chivalrous gentleman cowboy dressed in a charro jacket, tight pants, and a bedazzled sombrero.

As mariachi musicians migrated to the cities seeking fame and fortune, Guadalajara became an epicenter of the mariachi sound. Many of the world's most famous mariachis come from the Guadalajara area, including Natividad "Nati" Cano and Pepe Martínez. Today you can enjoy the full glitzy Guadalajara mariachi experience in the Plaza de los Mariachis, near Hospicio Cabañas, or on Sundays at El Parian in Tlaquepaque.

If you enjoy the mariachis, you might want to look for the source of their style inspiration. Mexico's national sport, charrería, is alive and well in Jalisco, where visitors can attend charreadas, a kind of rodeo with nine different scored events called suertes, plus escaramuza, an event for women riders. Dressed in wide sombreros and stylish suits, charros and charras are scored for speed, style and precision. Like most Mexican pastimes, a charreada is a festive event with music and food. Andale!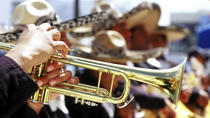 Enjoy a fun night out in Guadalajara that combines two of Mexico's most popular cultural delights — mariachi and tequila — both of which come from this region ... Read more
Location: Guadalajara, Mexico
Duration: 4 hours (approx.)