Like Copan, Quirigua is another popular archaeological site home to ancient Maya artifacts. Located in southeastern Guatemala (120 miles from Guatemala City), this one-mile area features an impressive array of monuments that detail the Maya past.
While not as large as Copan and only receiving a fraction of the visitors, the UNESCO World Heritage site is still rich with relics from as far back as 200 AD. Quirigua went on to become the center of a prosperous state, an area that controlled the jade and obsidian trade and traded with coastal people. The group had a near-monopoly on these goods at the height of its power.
Quirigua is worth a visit for its outstanding eighth-century monuments, carved stelae (large rock pillars with hieroglyphics) and sculpted calendars. There are 22 stelae and zoomorphs (boulders carved as animals) in total, and these sandstone artifacts are impressive to behold. The big claim to fame here is Stele E, finished in 771 AD, which is the largest known quarried stone in the Maya world. It is 35 feet tall and weighs 130,000 pounds—65 tons.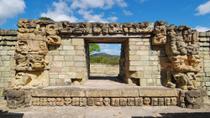 Take an overnight trip to Copan and Quirigua from Antigua and discover the beauty of these ancient ruins. After a scenic drive in a comfortable vehicle, spend ... Read more
Location: Antigua, Guatemala
Duration: 2 days (approx.)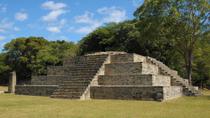 3 Reviews
Discover the beauty of the ancient ruins of Copan and Quirigua on this overnight trip from Guatemala City! After a scenic drive in a comfortable vehicle, spend ... Read more
Location: Guatemala City, Guatemala
Duration: 2 days (approx.)