Jai Vilas Palace Tours
This 19th century palace was built in the late 1800s and served as a home to members of the Maratha Scindia dynasty. Travelers who venture to this regal destination will find plenty of Indian history and European architecture that's worth exploring.
Forty of Jai Vilas Palace's 400 rooms have been transformed into a remarkable museum that showcases the history, culture and daily lifestyle of old-school India's royal elite. History-loving travelers will enjoy wandering the gilded halls filled with fine furniture, stunning chandeliers and photographs.
Practical Info
Jai Vilas Palace is located in Gwailor. It is home to what is believed to be one of the largest chandeliers in the world.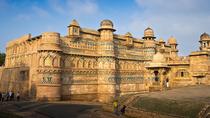 Enjoy this 8-hour guided excursion to the charismatic city of Gwalior. A private vehicle will take you on a 2-hour drive to visit the magnificent Gwalior ... Read more
Location: Agra, India
Duration: 8 hours (approx.)
Explore the marvelous sites in the majestic city of Gwalior. Take a tour of the indomitable Gwalior Fort and the enthralling temples and palaces.
Location: Agra, India
Duration: 7 to 8 hrs