Annapolis Valley Tours
Annapolis Valley is one of the province's most expansive regions and it covers quite a bit of ground; located in the western part of the Nova Scotia peninsula, it is formed by a trough between two parallel mountain ranges along the shore of the famous Bay of Fundy (home to the world's highest tides). Because of its exceptional location, its micro-climate and the fertile glacial sedimentary soils on the valley floor, Annapolis Valley is extremely fertile. It is home to over 1,000 farms, upscale vineyards and orchards.
Although an obvious foodie destination, Annapolis Valley also appeals to sport enthusiasts who are consistently wooed by the numerous cycling, coastal hiking, sea-kayaking and zip lining options. Nature aficionados also enjoy the area, thanks to plentiful fauna observation opportunities like whale, bird and other native species watching. But most importantly, the valley is where visitors will experience the world's highest tide (14.5 meters or 47.5 feet!) at the Bay of Fundy, a marvel of nature that has understandably been drawing hundreds of thousands of visitors and was even a finalist for the New 7 Wonders of Nature in 2011.
Annapolis Valley is also home to numerous historic sites like Port-Royal, one of the first European settlements in North America, the Colchester Historeum, Fort Anne and Grand Pré, where the Acadians who lived in harmony with the native Mi'kmaq people before the 1755 expulsion. The valley simply cannot be done in a hurry; it is home to significant culinary, historical and natural gems that deserve every visitor's attention.
Practical Info
Annapolis Valley is located north and north-west of Halifax. It can be reached by car from Halifax in a number of ways, with the main attraction, the Bay of Fundy, being three hours northwest.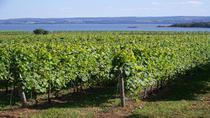 20 Reviews
While in Halifax, take a day trip to Annapolis Valley, Nova Scotia's premier wine and food destination whose beautiful scenery will delight you. Visit three ... Read more
Location: Halifax, Canada
Duration: 8 hours (approx.)