Peggy's Cove Tours
Appearance-wise, little has changed in this picturesque Nova Scotia fishing village over the past century. Colorful, salt-weathered fishermen's houses and the town's iconic red-and-white lighthouse stand strong along the sea-splashed shore of St. Margaret's Bay, and lobster traps, jetties, and fishing boats are still all over the place.
The Basics
Peggy's Cove is one of the best places to get a taste of small-town life in the Maritimes. The town's star attractions include the 100-foot (30-meter) sculpture depicting the people of Peggy's Cove, which was carved directly into an outcropping by Finnish-born artist, William E. deGarthe, and the oft-photographed Peggy's Point Lighthouse, a tower perched atop a smooth boulder outcrop. Tours typically depart from Halifax and combine free time at Peggy's Cove with stops at other popular Nova Scotia sights, including SS Atlantic Heritage Park, the Swissair Flight 111 Memorial, and the Fairview Lawn Cemetery—well known for the 121 Titanic victims buried there. Some tours include a seaside meal, with the option to try Nova Scotia's famous lobster rolls.
Things to Know Before You Go
When viewing Peggy's Point Lighthouse, stand at a safe distance from the edge of the outcrop, as the surging waves can be dangerous.

Bring a jacket. Even in summer, wind can make Peggy's Cove feel chilly.

How to Get There
Peggy's Cove is about 27 miles (44 kilometers) from Halifax, about an hour's drive along Highway 333 or Highway 103. There is no public transportation to the town, so if you don't have your own vehicle, the best way to get there is by organized tour.
When to Get There
Peggy's Point Lighthouse is an extremely popular photo stop, particularly in summer. Get there early in the morning (before 10am) or later in the afternoon (after 5pm) to experience the town at its tranquil best. In winter, the cove is quiet and devoid of crowds, but also cold and icy.
Peggy's Cove's Picturesque Lighthouse
More than 160 historic lighthouses dot the Nova Scotia coastline, though none is more famous than the red-and-white beacon known as Peggy's Point, said to be the most photographed lighthouse in Canada. First built in 1915 to guide vessels along Canada's Atlantic coast, the lighthouse used to house a post office where, up until 2009, visitors could mail postcards to friends and family at home.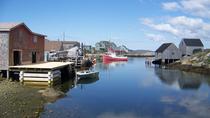 24 Reviews
Visit the famous fishing village and lighthouse of Peggy's Cove, enjoy a tasty lobster roll lunch overlooking a pretty inlet, and learn about the history in ... Read more
Location: Halifax, Canada
Duration: 5 hours 30 minutes (approx.)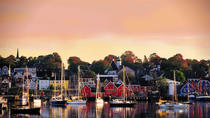 Overnight in the Oak Island area and learn of the treasure hunters that have ventured to Nova Scotia for hundreds of years. En route, enjoy breakfast in ... Read more
Location: Halifax, Canada
Duration: 2 days (approx.)