For those who enjoy exploring lesser-known wine regions, Halifax, Nova Scotia, is a great destination. While local restaurants feature bottles from this cool-climate wine region on their menus frequently, it is not widely shipped anywhere else. This doesn't mean it isn't good -- it's actually Canada's third-most developed wine region -- it just means you'll need to make a trip to Halifax or Nova Scotia to experience it.
As stated above, Nova Scotia is home to a cool climate, with warm summers and long falls. This means you can expect crisp wines with complex aromas and bright acidities. The signature grape of the region is the L'Acadie blanc, a Canadian white wine grape that is often thought to be similar to Chardonnay. Nova Scotia itself is home to more than 70 growers and over 550 acres (223 hectares), with many vineyards, wineries and wine shops located in or near Halifax.
Start your tour of wine tasting near Halifax in Annapolis Valley, located less than two hours away and home to more than 10 wineries. Blomidon Estate Winery is a popular stop in the valley, and is a boutique seaside winery known for their small-batch wines made from 100% Nova Scotia-grown grapes. Annapolis Highland Vineyards is another worthwhile stop, especially as they give tours of their vineyard and winery and have some of the most unique varietals in terms of flavor and complexity. Sample the "Blushing Bride," a blend of three local white grapes with a floral nose; the "L'Acadie Blanc," made with the region's signature grape with notes of citrus and a mineral edge; and the "White Wedding" dessert wine with tastes of honey, sweet grapes, floral and spice. Annapolis Valley is also home to Restaurant Le Caveau, a world-renowned winery restaurant with a beautiful terrace perfect for sipping high-quality vinos. Other venues worth a stop in the region include Fox Hill Cheese House for artisanal cheese and Tangled Garden for homemade jams, mustards and chutneys.
The Gaspereau Valley is another top wine region in Nova Scotia near Halifax. Visit Gaspereau Vineyards, home to a complimentary tasting bar and 35 acres (14 hectares) of vineyards (they're best known for their Rieslings). Luckett Vineyards is another winery in this area, and is the producer of Nova Scotia's most famous wine, "Tidal Bay."
Halifax itself is home to a number of wine bars and wine shops. Obladee Wine Bar in downtown Halifax is a social yet intimate venue featuring a hand-picked wine list of bottles perfect for pairing with their farm-to-table bites. Rustique is another great venue for wine-enthusiasts, offering rustic French fare as well as both French and New World wines. For adventurous wine enthusiasts, Noble Grape is a wine and beer making store that can get you started on the path to becoming a winemaker or beer brewer yourself.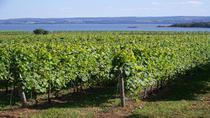 15 Reviews
While in Halifax, take a day trip to Annapolis Valley, Nova Scotia's premier wine and food destination whose beautiful scenery will delight you. Visit three ... Read more
Location: Halifax, Canada
Duration: 8 hours (approx.)