Six Harmonies Pagoda (Liuhe Pagoda) Tours
A seven-story structure which looks deceivingly like 13 stories, the Six Harmonies Pagoda was constructed in 970 AD as part of an effort to ward off evil spirits believed to be responsible for the Qiantang River's tidal bore. Though times of warfare ravaged the towering pagoda, a massive reconstruction effort in 1165 returned the 196 foot (60 meter) octagonal structure to its original glory.

Set on the banks of the Qiantang River, the pagoda was used as an ancient lighthouse by placing a lantern in the uppermost story to help ships navigate the river. The fact that the pagoda was used for navigation is appropriate seeing as the "six harmonies" are meant to honor the harmony between Heaven and Earth as well as the cardinal directions of east, west, north and south. Modern day visitors to the pagoda are able to ascend the spiral staircase to the top of the seventh story for a view of the surrounding area and the twice-daily tidal bore.  

A small park is located next to the pagoda which features exhibitions detailing the history and culture associated with the Chinese pagoda, as well as mini replicas of some of the world's most popular pagoda structures. Easily recognizable from anywhere along the river and renowned for its harmonious blend of light and shadows, the Six Harmonies Pagoda is a masterpiece of ancient Chinese architecture and an enduring historical symbol of the city of Hangzhou.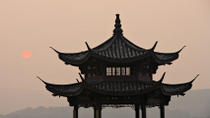 122 Reviews
Travel to Hangzhou, a city rich in culture, history and scenery, on a day trip from Shanghai. Accompanied by a knowledgeable guide, admire the architecture of ... Read more
Location: Shanghai, China
Duration: 10 hours (approx.)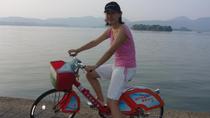 Travel to Hangzhou, a city rich in culture, history and scenery, on a day trip from Shanghai. Follow your guide visit the Six Harmonies Pagoda and cycle along ... Read more
Location: Shanghai Region, China
Duration: 8 hours (approx.)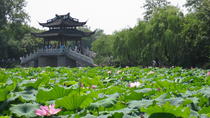 Once described by Marco Polo as "beyond dispute the finest and the noblest in the world," the city of Hangzhou is one of China's leading tourist ... Read more
Location: Shanghai, China
Duration: 11 hours (approx.)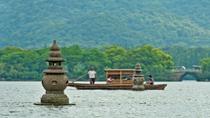 2 Reviews
Experience Hangzhou your way with this private transfer service around the city. Create your own sightseeing itinerary and enjoy the flexibility to explore at ... Read more
Location: Hangzhou, China
Duration: 8 hours (approx.)