The Ten Scenes of the West Lake are arguably the most popular attractions in the entire city of Hangzhou. This series of ten naturally occurring scenes take place at various parts of West Lake and each involve specific activities to be enjoyed during a specific season or certain time of day. For example, the scene of
Su Di Chun Xiao
involves visiting the Su Causeway at dawn to watch the morning light drape itself around the willows and dance on the water of the two mile long causeway.
First appearing in a 13th century book by ancient Chinese writer Zhu Mu, this established list was carefully followed by generations of poets and painters who gave the ten scenes around West Lake the infamous level of devotion they receive today.
All selected for their stunning natural beauty the Ten Scenes of the West Lake include:
Su Di Chun Xiao (Dawn on the Su Causeway)
Qu Yuan Feng He (Curved Yard and Lotus Pool in Summer)
Ping Hu Qiu Yue (Moon over the Peaceful Lake in Autumn)
Duan Qiao Can Xue (Lingering Snow on the Broken Bridge)
Lei Feng Xi Zhao (Leifeng Pagoda in the Sunset)
Shuang Feng Cha Yun (Two Peaks Piercing the Clouds)
Liu Lang Wen Ying (Orioles Singing in the Willows)
Hua Gang Guan Yu (Fish Viewing at the Flower Pond)
San Tan Yin Yue (Three Ponds Mirroring the Moon)
Nan Ping Wan Zhong (Evening Bell Ringing at the Nanping Hill)

When walking the blissful shores of the lake each of the ten scenes are denoted by a stela with an epithet written in the calligraphy of the Qianlong Emperor. Though activities such as watching the sunset from Lei Feng Pagoda charge a modest entry fee, scenes such as listening to the orioles sing in the willows or gazing at the two peaks piercing the clouds are activities that can be enjoyed free of charge in the same way they have been for nearly 1,000 years.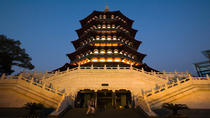 3 Reviews
On this full-day coach tour of Hangzhou, visit some of the city's must-see places including the Leifeng Pagoda, the China National Silk Museum and Qinghefang ... Read more
Location: Hangzhou, China
Duration: 8 hours (approx.)