Halong Bay Cruises from Hanoi
By Viator, June 2016
Halong Bay, located 103 miles (165 kilometers) from the capital city of Hanoi, is made up of more than 1,600 limestone islands and islets, creating a drowned Karst landscape of immense beauty. Visiting this UNESCO World Heritage Site has become the main reason visitors come to Hanoi, and while it's possible to visit on a day trip, you'll thank yourself for staying longer.
If your time in Vietnam is limited, you should at least set aside a full day for a
Halong Bay Small Group Adventure Tour,
where you'll board a traditional Chinese junk boat and spend the day sailing among the towering limestone pillars, stopping at a local fishing village along the way.
Visitors with a bit more time in their travel itinerary can sail further off the beaten path on a
Halong Bay Overnight Junk Boat Cruise
. By sleeping on the boat, you'll have more time to visit areas of the bay far from the crowds of day trippers, swim in secluded emerald lagoons or even do some kayaking around the karsts. If you have the time, a 3-day junk boat cruise from Hanoi gives you the time to fully appreciate the scenery of the Bay, with time for swimming, kayaking, tanning on the deck of your luxury junk and visiting one of many caves found within the hollowed out limestone islets.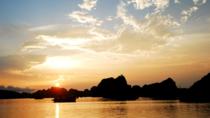 190 Reviews
Discover the striking beauty of World Heritage-listed Halong Bay on this Halong Bay small group adventure tour from Hanoi. Drive through the rural villages of ... Read more
Location: Hanoi, Vietnam
Duration: 11 hours (approx.)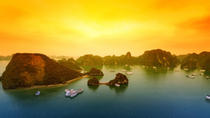 17 Reviews
Take in the sights of UNESCO World Heritage-listed Halong Bay on a 2-day luxury cruise aboard a traditional junk. Swim in the bay's emerald-green waters and ... Read more
Location: Hanoi, Vietnam
Duration: 2 days (approx.)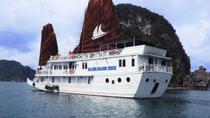 9 Reviews
Discover Halong Bay and Cat Ba Island with 1-night on the cruise and 1-night on Cat Ba Island. Join some interesting activities like kayaking, swimming, ... Read more
Location: Hanoi, Vietnam
Duration: 3 days (approx.)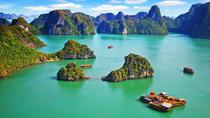 12 Reviews
Enjoy more time exploring Vietnam's Halong Bay, one of Vietnam's most spectacular World Heritage listed natural wonders, on this 2-night cruise aboard a junk ... Read more
Location: Hanoi, Vietnam
Duration: 3 days (approx.)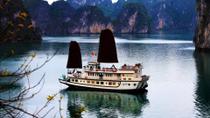 3 Reviews
Enjoy this 2-day overnight cruise from Hanoi and experience the karst landscape of Halong Bay. Climb aboard a traditional deluxe junk boat and sail among ... Read more
Location: Hanoi, Vietnam
Duration: 2 days (approx.)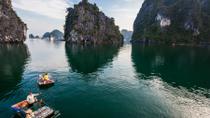 19 Reviews
Take a one-day tour to the spectacular World Heritage listed site of Halong Bay by a traditional Vietnamese junk boat, while enjoying a delicious seafood ... Read more
Location: Hanoi, Vietnam
Duration: 11 hours (approx.)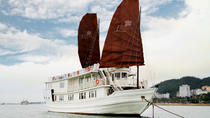 55 Reviews
Imagine waking up surrounded by the tranquil beauty of Halong Bay, one of Vietnam's most spectacular natural wonders. Explore the UNESCO World Heritage-listed ... Read more
Location: Hanoi, Vietnam
Duration: 2 days (approx.)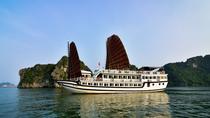 Climb aboard a junk-style boat and cruise among the remarkable limestone karst formations of Ha Long Bay on a 2-day tour from Hanoi. Watch cookery ... Read more
Location: Hanoi, Vietnam
Duration: 2 days (approx.)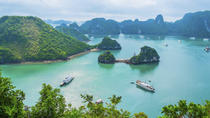 1 Review
Sail around the stunning natural wonders of Halong Bay on this full-day tour from Hanoi, including a scenic round-trip drive through northern Vietnam's rural ... Read more
Location: Hanoi, Vietnam
Duration: 10 hours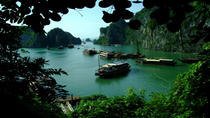 2 Reviews
Take in the sights of Hanoi and enjoy an overnight cruise on Halong Bay on a four-day excursion from Hanoi. Visit Hanoi's market and Ho Chi Minh sights, and ... Read more
Location: Hanoi, Vietnam
Duration: 4 days (approx.)