Whale watching in Hawaii is such a thrill it's the type of activity that ends up on bucket lists. Every winter, over 10,000 acrobatic humpbacks make the journey from Alaska to Hawaii to give birth and mate in the warm tropical waters. Even though humpbacks are the 5th largest whale species, they're the crowd favorite for their aerial displays of breaches, throws, and tail slaps.
For those wanting to go whale watching in Hawaii the peak of the season is from January-March. This is the time when mothers and calves will openly frolic in the channels, and groups of males will gather in "competition pods" to vie for the attention of the female. In many areas—such as the leeward shores of Maui and the Kona coastline of the Big Island—the horizon is a constant mist of whale spray as they splash unabated for weeks. 
Of all the best places to go whale watching in Hawaii, most exist within the protected confines of the Hawaiian Islands Humpback Whale National Marine Sanctuary. Broken up over several islands, the sanctuary encompasses the Kona coast of the Big Island, the leeward coast of Maui, the northern coasts of O'ahu and Kaua'i, and it completely encircles the island of Lana'i. While whales can be seen in all of these locations, the channels between Maui, Moloka'i, and Lana'i have the highest concentration of heart-stopping humpbacks.
During the summer months, however, the whales make the trek back to the waters of Alaska where they will feed on plankton before returning for the winter. Even with the departure of the whales, however, dolphins can be encountered during all times of year and are a common sight on snorkeling tours in Hawaii.
Of all the dolphins you can see in Hawaii the most frequently encountered are the Hawaiian spinner dolphins. Relatively small and remarkably playful, these year-round residents can boost out of the water and perform up to seven rotations in the air. Though the dolphins will spend much of the day sleeping, they are also known for swimming alongside boats and riding the wake which is created from the bow. When lounging aboard the nets of a catamaran or bouncing along the pontoons of a raft, there are few things more exciting than when a pod of dolphins swims just a few feet from your face. 
On the Big Island of Hawaii, snorkeling tours which encounter dolphins leave from along the Kona coastline. From areas such as Honokohau Harbor or the beaches of Waikoloa, it's common for tours to encounter the groups as they playfully navigate in pods. On rare occasions you can even spot a bottlenose or spotted dolphin, and no two excursions are exactly alike when dolphin and whale watching in Hawaii.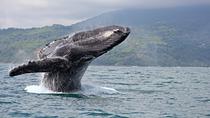 190 Reviews
Experience the thrill of Maui whale- watching on a two-hour whale-watching cruise. This educational and informative adventure is great fun for the entire ... Read more
Location: Maui, Hawaii
Duration: 2 hours (approx.)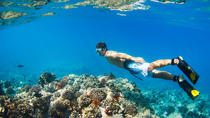 108 Reviews
Head to the west shore of Oahu to swim and snorkel with Hawaii's spinner dolphins! Cruise along the Waianae Coast and snorkel with tropical fish and Hawaiian ... Read more
Location: Waikiki, Oahu
Duration: 6 hours 30 minutes (approx.)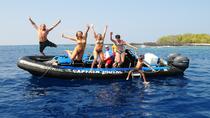 46 Reviews
Skim across the waves on an exciting Big Island Zodiac tour to Kealakekua Bay, site of the Captain Cook monument and Hawaii's finest marine sanctuary. Snorkel ... Read more
Location: Kona, Hawaii
Duration: 4-5 hours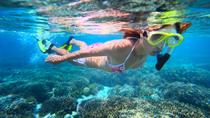 98 Reviews
Go sailing, snorkeling and dolphin-watching on a fun-filled morning cruise along the Leeward Coast! Cruise along the southwestern coast of Oahu and admire the ... Read more
Location: Waikiki, Oahu
Duration: Varies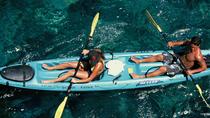 36 Reviews
Surround yourself with beautiful scenery, dolphins and the occasional humpback whale as you paddle a kayak in picturesque Kealakekua Bay! This narrated Big ... Read more
Location: Honalo, Hawaii
Duration: Varies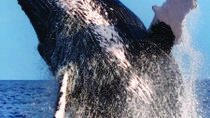 28 Reviews
From late December through early May, thousands of humpback whales migrate to the warm waters of Hawaii. Catch a glimpse of the magnificent mammals on a ... Read more
Location: Waikiki, Oahu
Duration: 2 hours (approx.)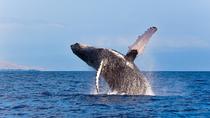 22 Reviews
The experience of watching 40 foot (12 meter) whales from a 24 foot (7 meter) Zodiac raft is something you'll never forget! Following Hawaiian Marine Park ... Read more
Location: Kona, Hawaii
Duration: 3 hours (approx.)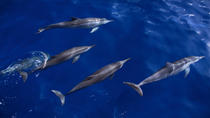 4 Reviews
Combine two amazing Big Island experiences with this submarine adventure and snorkel cruise in Kona. On your submarine tour, discover Hawaii's tropical ... Read more
Location: Kona, Hawaii
Duration: 5 hours (approx.)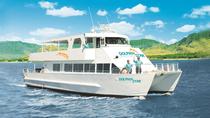 6 Reviews
The perfect Hawaiian eco-tour for all ages! Take this rare opportunity to observe Hawaiian spinner, bottlenose & spotted dolphins as well as other marine ... Read more
Location: Waianae, Oahu
Duration: 2 hours (approx.)