Blessed by Mother Nature with lush rainforest, rivers, cliffs, and mountains, the Hawaiian Islands are home to many waterfalls, both on and off the beaten path. Here are our picks for the top falls to see on a tour, hike, or even a helicopter ride.
Akaka Falls (Big Island of Hawaii)
A few miles inland from the Big Island's northeastern coast, just north of Hilo, Akaka Falls State Park is home to the 442-foot (135-meter) Akaka Falls, as well as the 100-foot (30-meter) Kahuna Falls. A short hike (less than half a mile) in the park leads you to both waterfalls, providing easy access to one of the Island of Hawaii's most famous cascades.
Rainbow Falls (Big Island of Hawaii)
In Hilo, you don't have to go far to find a waterfall. Head to Wailuku River State Park to check out the 80-foot (24-meter) Rainbow Falls, also known as Waianuenue, where on sunny mornings, rainbows can be seen in the mist from the water. Also nearby is Peepee Falls, which feed the pools known as the Boiling Pots.
Hanakapiai Falls (Kauai)
It takes physical effort to get to Hanakapiai Falls, but you'll be rewarded with a remote spot to appreciate Kauai's legendary natural beauty. Reaching the 300-foot (91-meter) waterfall requires a strenuous, not-for-beginners hike from Kee Beach to Hanakapiai Beach and then up to the falls.
Wailua Falls (Kauai)
Located a bit north of Lihue, Wailua Falls is known for its appearance on the TV show Fantasy Island and is a favorite Kauai waterfall for its easy access from town (unlike other Kauai falls only accessible by hiking). It drops 80 feet (24 meters) into the Wailua River in two cascades, providing a dramatic photo op.
Opaekaa Falls (Kauai)
Not far from Wailua Falls, Opaekaa Falls is another easily accessible Kauai waterfall, and visiting both falls on one tour or in the same day is common. The 151-foot (46-meter) waterfall is best seen from the lookout point on Kuamoo Road.
Manoa Falls (Oahu)
About six miles (9.5 km) from Honolulu, an easy hike—more of a walk, really—takes you to Manoa Falls in Manoa Valley. The hike is suitable for all skill levels, making it an easy way for the whole family to enjoy a piece of Hawaiian nature on your Waikiki vacation.
Waimea Valley (Oahu)
Located on Oahu's North Shore, Waimea Valley is a cultural and natural attraction home to Waimea Falls, a 45-foot (14-meter) waterfall popular for swimming. Enjoy the botanical garden setting on the paved walk to the falls.
Waimoku Falls (Maui)
Just off the Hana Highway (Road to Hana) on Maui's east coast, the Pipiwai Trail leads to Waimoku Falls via a 4-mile (6.5-km) round-trip hike that takes three to five hours to complete. The 400-foot (120-meter) waterfall is part of Haleakala National Park and is often visited together with the Seven Sacred Pools of Oheo, a set of tiered waterfall pools.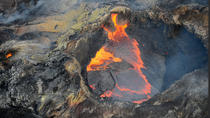 72 Reviews
Get breathtaking views of Hawaii from the air! On this deluxe, two-hour helicopter tour of the Big Island, you'll take off from Kona and fly above spectacular ... Read more
Location: Kona, Hawaii
Duration: 100-120 minutes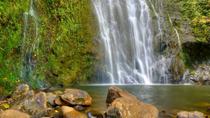 40 Reviews
Discover the natural beauty hidden just off Hawaii's famed Hana Highway on a waterfalls and rainforest hike in east Maui. The 5- to 6-hour excursion takes you ... Read more
Location: Maui, Hawaii
Duration: 5 hours (approx.)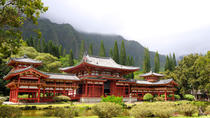 65 Reviews
Experience Oahu's natural beauty and historic sites on a full-day coach tour that circles the island of Oahu. See North Shore beaches like Banzai Pipeline, ... Read more
Location: Oahu, Hawaii
Duration: 9 hours 30 minutes (approx.)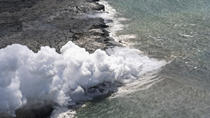 124 Reviews
This Big Island helicopter adventure will show you the best of Hawaii – volcanoes and waterfalls – from the air! Starting from Hilo, you'll journey over miles ... Read more
Location: Hilo, Hawaii
Duration: 45 minutes (approx.)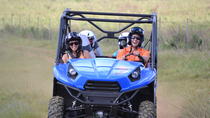 10 Reviews
For a fun filled day with your family and friends, our 4 hour Waterfall Tour is the adventure for you. This is a swimming tour, so be sure to pack your towels ... Read more
Location: Lihue, Hawaii
Duration: 4 hours (approx.)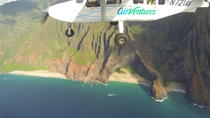 61 Reviews
The only way to see the entire garden island of Kauai is by plane on a Kauai air tour! Enjoy the breathtaking scenery of Kauai from a new Airvan aircraft, and ... Read more
Location: Kauai, Hawaii
Duration: 70 minutes (approx.)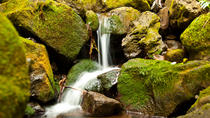 94 Reviews
This adventure will fulfill all your fantasies about Hawaii's lush rainforests, giant ferns, cascading tropical waterfalls, picturesque streams and unique ... Read more
Location: Waikiki, Oahu
Duration: 4 hours (approx.)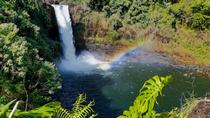 28 Reviews
See three of the Big Island's famous waterfalls — Hiilawe Falls, Akaka Falls and Rainbow Falls — on this tour to the Waipio Valley and Hamakua Coast. Discover ... Read more
Location: Hawaii, Hawaii
Duration: 9 hours (approx.)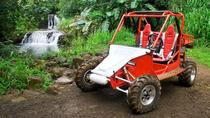 46 Reviews
Enjoy a 4-hour off-road waterfalls adventure on Kauai! As you drive or ride in an open-air off-road vehicle, travel through Kauai's lush, tropical landscape, ... Read more
Location: Kauai, Hawaii
Duration: 4 hours (approx.)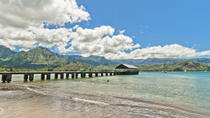 16 Reviews
This full-day private tour of Kauai's north shore starts with a visit to Wailua Falls, one of the Garden Isle's most famous natural sights. With an informative ... Read more
Location: Kauai, Hawaii
Duration: 7 hours (approx.)