Helsinki RECOMMENDATIONS See all
Winter Adventures from Helsinki
By Viator, September 2016
No reviews, be the first!
One-third of the Republic of Finland is above the Arctic Circle, making it one of the world's northernmost countries in the world, and Helsinki isn't spared the brutality of the elements. Travelers familiar with Scandinavian winters might consider it odd to contemplate embarking on outdoor adventures during the coldest months of the year, but there is an abundance of readily accessible fun spots in and around Helsinki to tempt those blessed with a stout constitution.

The nearest ski slopes are at Serena Ski resort in Espoo, approximately 40 minutes from the center of Helsinki. Rental gear is affordable and the slopes can be reached by public transportation and train quickly and easily.

Nuuksio National Park is an untamed wilderness just 15 miles (24.1 km) from Helsinki city centre. Established as recently as 1994, the park is nonetheless as wild as anything you're likely to find so close to a metropolitan area. A number of simple cabins housing as many as 6 people each come complete with saunas and cost a pittance of what even a modest hotel would charge in the city. It's a perfect place for travelers with limited time in Helsinki who want to get a taste of the countryside.

Of course, no trip to Finland would be complete (especially in winter) without a proper sauna, and one need look no further than the famous Kotiharju Sauna. The only remaining public wood-burning sauna in Helsinki, Kotiharju has been offering traditional "mellow heat" stress relief to visitors and locals since 1928. Separate saunas for men and women is the rule, so it may not be the ideal romantic destination. That said, when in Rome… Get into the Scandinavian spirit and let the relaxation begin.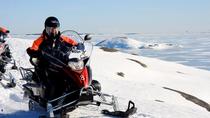 Experience the snowy woods and the frozen Gulf of Finland. Experienced guides will lead you to the amazing winter wonderland. The snowmobile tour covers an ... Read more
Location: Helsinki, Finland
Duration: 5 hours (approx.)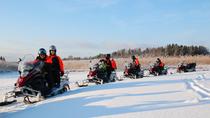 Are you looking for an unforgettable and quintessentially Finnish experience? Do you want to enjoy the true beauty of the archipelago and its nature or do you ... Read more
Location: Helsinki, Finland
Duration: 1 day (approx.)