75 Reviews
Address:

Greece

Hours:

Open: Nov - May 8am - 3pm; Jun - Oct 8am - 7pm

Admission:

Adults: € 6
Palace of Knossos
The best place to capture the mystery and magic of Crete's ancient Minoan civilization is the ruins of Knossos, just outside Heraklion.
The secrets of this enigmatic civilization were only unraveled in the 20th century, by the man who would go on to restore the palace ruins, Sir Arthur Evans.

The Palace of Knossos was built at the height of the Minoans' glory, in around 3400 to 2100 BC, reflecting their wealth and sophistication. Best known for their incredibly naturalistic frescos and exquisite ceramics, the Minoans traded with other contemporary great powers in Egypt and Asia Minor.

The original palace was destroyed by an earthquake in around 1700 BC, and a more sophisticated complex was built over the ruins. Knossos was eventually destroyed by fire in 1400 BC.

Minoan pottery, jewelry, frescos and sarcophagi from Knossos are displayed in Heraklion at its fabulous archaeological museum. Standout frescos include depictions of a procession, a griffin, dolphins, bull-leaping acrobats and the much-copied fresco of a saffron-gatherer. Bull statues, flower paintings, vases, gilt ornaments and bare-breasted snake goddesses were also unearthed from the site.

You have to visit the site to really appreciate the ruins and the majesty of their original ornamentation. The original site was huge, and so interconnected that it was rumored to have been the original labyrinth of King Minos and the legendary Minotaur.

You can see the original royal roadways and aqueducts, storerooms and theater, burial grounds, throne room and ritual bathing area. Reconstructions also reveal the site's original red columns and lovely restored frescos.
Practical Info
The Palace of Knossos lies just 5km (3 miles) southeast of the capital, Heraklion. Buses leave for Knossos several times an hour from Heraklion's bus station A.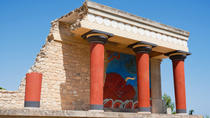 32 Reviews
Explore the Minoan Palace of Knossos and the nearby city of Heraklion on a 5-hour Crete tour! With an expert local guide, walk around the ruins and excavations ... Read more
Location: Heraklion, Greece
Duration: 5.5 - 6 hours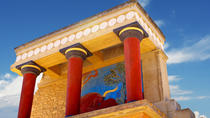 Discover the ancient Palace of Knossos and city of Heraklion while on this 9-hour full-day tour. Accompanied by a professional guide, learn about the temple ... Read more
Location: Rethimno, Greece
Duration: 9 hours (approx.)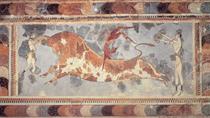 Private half day tour from Heraklio port or town hotels with licensed guide and deluxe minivan to visit Knossos Palace and archaeological site, Heraklio town ... Read more
Location: Heraklion, Greece
Duration: 4 hours (approx.)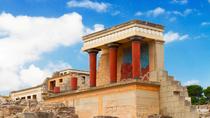 Travel back 4,000 years to the oldest civilization in Europe on this excursion through Crete. Departing from Heraklion Port, a luxury mini-bus will take you to ... Read more
Location: Heraklion, Greece
Duration: 4 hours (approx.)