Samaria Gorge
Samaria Gorge is legendary amongst hikers, with more than 1,000 walkers hitting the rugged river valley trail daily in summer. Europe's longest gorge offers a wildflower-bedecked river trail with cliff-top views of Crete's endangered wild goat, the ...
Tours & Tickets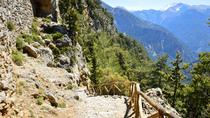 46 Reviews
Enjoy this excursion to the prized national forest of Crete, the Samaria Gorge - the longest and most beautiful gorge in Europe.
Location: Heraklion, Greece
Duration: 16 hours (approx.)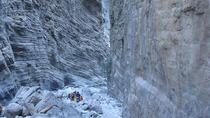 7 Reviews
The Samariá Gorge is a National Park of Greece since 1962 on the island of Crete – a major tourist attraction of the island – and a World's Biosphere ...
Location: Chania, Greece
Duration: 12 hours (approx.)