Spinalonga
For centuries the island of Spinalonga has been known for its Venetian fortress, and more recently it was the setting for the 2005 novel 'The Island' by Victoria Hislop.

The now-abandoned island is the perfect place to lose yourself for half a day. You'll discover how the island was once part of the mainland, and was created by the Venetians to protect the Gulf of Mirabella. You'll also see where salt was harvested by the Venetians, but the main attraction and dominating landmark is the fort.

The Venetian fortress was built in 1579, and over the years it's been used as a Turkish bastion and leper colony. Built to watch over the neighboring mainland port of Elounda, the massive fort is surrounded by a circular walk passing ruined churches, homes, fortified structures and turreted walls.

Along the shore there are sheltered pebbled beaches for paddling, but that's about it when it comes to facilities. There's a small snack bar but no accommodation, so the island is a destination for day trips only.
Practical Info
The little island of Spinalonga lies 80km (50 miles) east of Heraklion in the Gulf of Mirabella. The island's southern tip is connected to the mainland by a causeway near the town of Elounda, but you need to take a quick ferry ride from Plaka or Elounda if you want to be dropped off at the fort.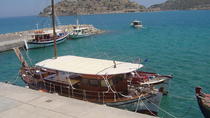 Visit Spinalonga island in combination with a taste of Cretan culture. Minibus tour and boat trip, small-group, with a personal touch.
Location: Heraklion, Greece
Duration: 1 day (approx.)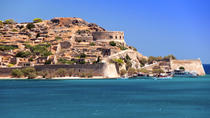 25 Reviews
Take a boat ride to the island of Spinalonga. This former leper colony includes preserved houses and churches, and a strong Venetian influence in the form of ... Read more
Location: Heraklion, Greece
Duration: 8 hours (approx.)
The history and the culture of the island of Spinaloga became one with human tragedy in the course of time. It carries the history of Ancient Greece as it ... Read more
Location: Agios Nikolaos, Greece
Duration: 1 day (approx.)
You want them all ? Here it is: An adventure with the Land Rover and a private speed boat to Spinalonga Island to explore it. Very nice combo with Safari and ... Read more
Location: Elounda, Greece
Duration: 4 hours (approx.)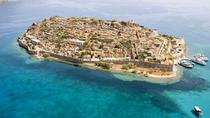 1 Review
Originally, Spinalonga was not an island – it was part of the island of Crete. During Venetian occupation the island was carved out of the coast for defense ... Read more
Location: Heraklion, Greece
Duration: 8 hours (approx.)
A beautiful day starts from Elounda with your final destination on the Spinalonga Island. Do not miss the opportunity to visit the leper island which is ... Read more
Location: Agios Nikolaos, Greece
Duration: 7 hours (approx.)