Heraklion on Crete is the perfect holiday base, with soft golden beaches, miniscule coves, buzzing towns, archaeological treasures, majestic mountains and deep gorges all within easy reach.

The Minoans at Knossos

The fascinating Minoan site of Knossos is the most popular day trip from Heraklion, showcasing the remains of the earliest sophisticated civilization known to man. Knossos flourished for thousands of years as the foremost and most powerful city in the eastern Mediterranean and a guided tour is the best way to see this extensive Neolithic and Bronze Age site, which has been cleverly restored and re-frescoed in parts. Central to the ruins of the once-thriving city is the luxurious palace of legendary King Minos, built around 2,000 BC.

See Santorini

It's a three-hour sail northward across the Aegean from Heraklion to Santorini in the Cyclades for a day drinking in the romantic atmosphere of Greece's premier honeymoon destination. This enchanting isle is blessed with pocket-sized beaches, rugged multi-colored cliffs, stark-white villages and a cobalt-blue sea – and the day is yours to do as you please.

Take the funicular up the cliffs to explore the arty white-washed town of Oia, explore the steaming volcano caldera and swim in natural hot springs in the sea, or simply lie on a beach and slip into laid-back Santorini time. The evening sail back to Heraklion normally produces some stunning sunsets, so keep your camera to hand.

Spinalonga Leper Colony

The northern coastal road from Heraklion leads east to the pretty village of Elounda, the jumping off point to the island of Spinalonga on Crete's north-east coast. A leper colony until 1957, the island is now uninhabited and makes an intriguing day trip for its Venetian fortifications and castle, which are gently slipping into disrepair. Enjoy a BBQ on the beach and a swim in the Aegean and head back to the mainland for a stroll around the harbor at Aghios Nicolaos before returning to Heraklion.

Walk Samaria Gorge

A day's hike through the dramatic Samaria Gorge is only possible between May and the end of October but this is one of Heraklion's best-loved day trips. It allows (reasonably fit) walkers with sturdy boots to discover Cretan wildlife at its best, plus the chance to see wild goats, carpets of flowers and wild herbs, birds of prey and rare kri-kri goats. Starting from Omalos, 4,100 ft (1,250 m) up on a plateau, the 11-mile (18 km) hike wends through Crete's White Mountains in a towering, rocky gorge before ending on the volcanic black beach at Aghia Roumeli. The day's adventures continue on the ferry to the village of Chora Sfakion, where coaches return hikers to Heraklion.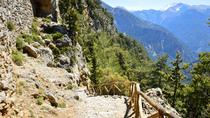 46 Reviews
Enjoy this excursion to the prized national forest of Crete, the Samaria Gorge - the longest and most beautiful gorge in Europe.
Location: Heraklion, Greece
Duration: 16 hours (approx.)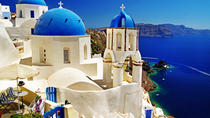 9 Reviews
Get to know Santorini on a full-day independent trip from Crete, and see as much of the island as you wish! Either soak up the sun with a book on the beach, or ... Read more
Location: Heraklion, Greece
Duration: 12 hours (approx.)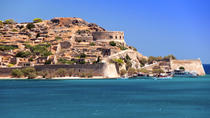 25 Reviews
Take a boat ride to the island of Spinalonga. This former leper colony includes preserved houses and churches, and a strong Venetian influence in the form of ... Read more
Location: Heraklion, Greece
Duration: 8 hours (approx.)