The Greek city of Heraklion, on the island of Crete, serves as an ideal base from which to explore the surrounding Minoan archaeological treasures, hidden coves, historic towns, deep gorges, and soaring peaks. Here are a few of the top day trips you can enjoy from Heraklion.
Santorini—89 miles (144 kilometers) from Heraklion
Romantic rewards await those who take the 2-hour cruise across the Aegean Sea from Heraklion to Santorini. Greece's premier honeymoon destination boasts soft-sand beaches, rugged cliffs, and azure-blue seas—and there are plenty of options for exploration. Take the funicular to the clifftops and visit the white-washed town of Oia, explore the steaming volcano caldera, swim in the Cretan hot springs, or simply lie on a beach and listen to the waves. On your return cruise to Heraklion, capture the often spectacular sunset on camera.
Spinalonga Island—41 miles (66 kilometers) from Heraklion
Heading east along the coastal road from Heraklion, you reach the quaint village of Elounda—and it's from here that you can take the short ferry journey to the uninhabited island of Spinalonga. Full-day tours from Heraklion include a walking tour of the ruined 17th-century Venetian fortress, a seaside BBQ on the neighboring island of Kolokytha, and free time for a refreshing dip in the Aegean Sea. Back on Crete, enjoy a harborside stroll in the coastal town of Agios Nikolaos and watch the sunset before returning to Heraklion.
Chrissi Island—66 miles (107 kilometers) from Heraklion
One of the smallest islands in Europe, Chrissi is a remote landmass off the southern coast of Crete, and day trips here are all about rest and relaxation. Chrissi is home to beautiful beaches, ancient cedar forests, and crystal-clear waters—everything you need to enjoy an escape to nature. Hike along trails beneath the leafy canopy to hidden coves along the shoreline, collect seashells, and enjoy free time to swim in the island's warm waters at your leisure.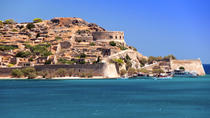 29 Reviews
Take a boat ride to the island of Spinalonga. This former leper colony includes preserved houses and churches, and a strong Venetian influence in the form of ... Read more
Location: Heraklion, Greece
Duration: 8 hours (approx.)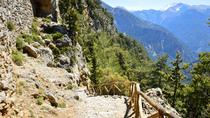 54 Reviews
Enjoy this excursion to the prized national forest of Crete, the Samaria Gorge - the longest and most beautiful gorge in Europe.
Location: Heraklion, Greece
Duration: 16 hours (approx.)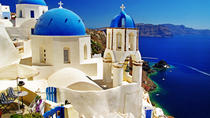 9 Reviews
Get to know Santorini on a full-day independent trip from Crete, and see as much of the island as you wish! Either soak up the sun with a book on the beach, or ... Read more
Location: Heraklion, Greece
Duration: 12 hours (approx.)