To understand Vietnam's present, you must look to the past, and that includes the tragic period of the Vietnam War, or the American War as it was called in Vietnam. The region surrounding Ho Chi Minh City sat at the heart of the conflict, and visitors to the southern city can still see the legacy of the war in many of its attractions.
One of Ho Chi Minh's most popular Vietnam War tours is to the Cu Chi Tunnels -- a 120-mile network of underground passages built by the Viet Cong as a means of protection from air raids and for infiltration to the entire region surrounding the capital of South Vietnam (then called Saigon).
Located 20 miles (30 kilometers) from central Ho Chi Minh City, the tunnels once held hospitals, living quarters, schools and meeting halls, along with booby traps to prevent unwanted intruders from getting in. On a typical tour of the Cu Chi Tunnels from Ho Chi Minh City, visitors will learn about the hardships suffered by Vietnamese on both sides of the conflict while exploring the claustrophobic passageways. 
Ho Chi Minh City tours are another popular way to learn about the Vietnam War, as many of the city's top attractions played a role in the conflict. One of the city's most recognizable buildings, the Reunification Palace, served as the site of the liberation of Saigon in 1975, bringing an end to the bloody conflict. 
The War Remnants Museum, built in 1975 just after liberation, tells the story of the war through artifacts and explicit photos from the perspective of the Vietnamese, and the result is a sobering experience that every visitor to the country should have. On a Ho Chi Minh City Full-Day Tour, you'll get to visit both the Reunification Palace and the War Remnants Museum, as well as several other historic buildings.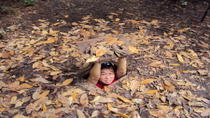 27 Reviews
Experience the Cu Chi Tunnels of Vietnam on this small-group day tour from Ho Chi Minh City with an informative guide. Traveling by air-conditioned vehicle as ... Read more
Location: Ho Chi Minh City, Vietnam
Duration: 8 hours (approx.)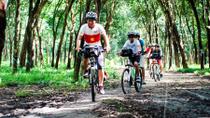 4 Reviews
On this full-day tour from Ho Chi Minh City, combine a speedboat ride on the Saigon River to the Cu Chi Tunnels with a 2.5-hour bike ride in the southern ... Read more
Location: Ho Chi Minh City, Vietnam
Duration: 9 hours (approx.)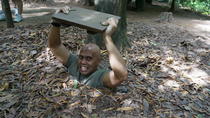 413 Reviews
Experience the world of the Cu Chi freedom fighters with a visit to their famous tunnel system. This network of over 200 km of tunnels became legendary during ... Read more
Location: Ho Chi Minh City, Vietnam
Duration: 5 hours 30 minutes (approx.)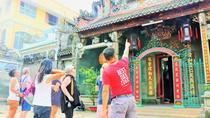 156 Reviews
Explore bustling Ho Chi Minh City (formerly known as Saigon) on this small group adventure tour.The Ho Chi Minh City tour will give you an insight into the ... Read more
Location: Ho Chi Minh City, Vietnam
Duration: 8 hours (approx.)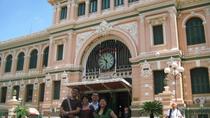 82 Reviews
See the best of Ho Chi Minh City on this private full-day tour. In the morning, visit the historic Reunification Palace and War Remnants Museum, followed by ... Read more
Location: Ho Chi Minh City, Vietnam
Duration: 8 hours (approx.)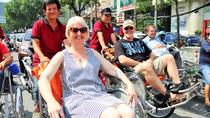 75 Reviews
Explore the vibrant streets of Ho Chi Minh City on foot and cyclo on this small group adventure tour. Travel like a local as you discover Ho Chi Minh City's ... Read more
Location: Ho Chi Minh City, Vietnam
Duration: 4 hours (approx.)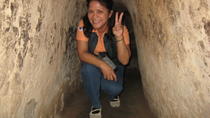 53 Reviews
The private tour to Cu Chi Tunnels and Cao Dai is a great day trip from Ho Chi Minh. Visit Tay Ninh, home of the unique Cao Dai sect which is a mix of ... Read more
Location: Ho Chi Minh City, Vietnam
Duration: 10 hours (approx.)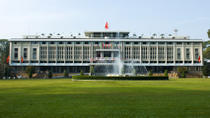 7 Reviews
Experience the best of Ho Chi Minh City on this half-day tour with a knowledgeable local guide. With a small-group of no more than 6 people, visit ... Read more
Location: Ho Chi Minh City, Vietnam
Duration: 4 hours (approx.)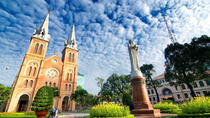 5 Reviews
See the highlights of Ho Chi Minh City – formerly Saigon – on a private sightseeing tour including Cu Chi Tunnels. You'll hear captivating stories about ... Read more
Location: Ho Chi Minh City, Vietnam
Duration: 9 hours (approx.)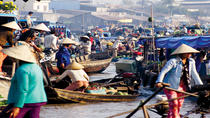 Navigate the urban streets and rural outskirts of Ho Chi Minh City on this four-day tour with a local guide. See the southern capital's top attractions on a ... Read more
Location: Ho Chi Minh City, Vietnam
Duration: 4 days (approx.)