The charming port town of Hoi An is a favorite stop for many a visitor to Vietnam, and while most travelers stay in town, there are a few opportunities for excursions outside of town. If you're ready to explore further afield, here are three of the best day trips from Hoi An.

My Son

Located 25 miles (40 kilometers) from Hoi An are the Cham ruins of My Son. The Hindu people known as the Cham occupied the coast on what is now Vietnam from the fourth to the thirteenth centuries, and the crumbling remains of their empire, set within an elevated basin of central Vietnam, are one of their most important architectural legacies. While it's possible to take a bus to My Son from Hoi An and tour the complex on your own, you'll find the experience more rewarding if you go with a guide who can offer a little history and cultural perspective on the UNESCO World Heritage Site.

Cham Island

After you've seen the ancient Cham ruins of My Son, spend a day on Cham Island, home to an ethnically Cham population. While the villages are interesting, the main draw on Cham Island is the diving and snorkeling off the coast of the remote islands in the area. Visibility tends to be at its best from late June through the end of August.

China Beach

Popularized by the TV drama by the same name in the late 1980s, China Beach is one long stretch of golden sandy coast near Danang. It's certainly not Vietnam's most attractive beach, but it's still beautiful and a great place to spend the day relaxing in the sun and sand.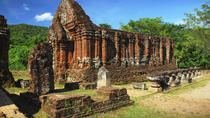 30 Reviews
This half-day trip takes you to My Son Sanctuary, a UNESCO World Heritage site dating from the 4th to 13th centuries. With an expert guide, tour the ancient ... Read more
Location: Hoi An, Vietnam
Duration: 4 hours (approx.)
2 Reviews
Cham Island, located off the coast from Hoi An, is a beautiful and fun-filled getaway — the perfect day trip. Known locally as Cu Lao Cham Marine Park, this ... Read more
Location: Hoi An, Vietnam
Duration: 8 hours (approx.)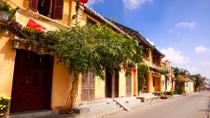 2 Reviews
Visit two UNESCO World Heritage sites on a full-day tour to My Son Sanctuary and Hoi An Ancient Town. In the morning, explore the temple complex of My Son, the ... Read more
Location: Hanoi, Vietnam
Duration: 8 hours (approx.)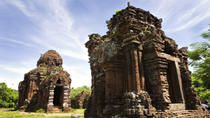 5 Reviews
Explore the magnificent temples of My Son on this essential half-day private tour from Hoi An. An important temple complex built by the Champa Kingdom over ... Read more
Location: Hoi An, Vietnam
Duration: 5 hours (approx.)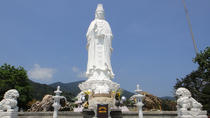 1 Review
Try something different in Hoi An, take a short trip to Marble Mountain where you get a best the view of Vietnam's Eastern coastline and be fascinated by stone ... Read more
Location: tp. Hội An, Vietnam
Duration: 4 hours (approx.)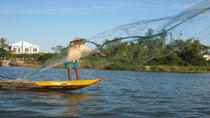 5 Reviews
Experience life on the waterways in Hoi An with a half-day fishing tour on the Cua Dai River! Cruise with an expert captain and crew aboard an eco-tour boat to ... Read more
Location: Hoi An, Vietnam
Duration: 4 hours (approx.)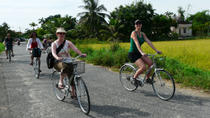 Tra Que a little charming village lies on the edge of Hoi An. Experience one day living, cooking and working with the local people at the Tra Que vegetable ... Read more
Location: tp. Hội An, Vietnam
Duration: 6 hours (approx.)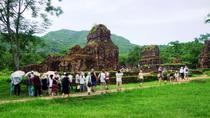 The highlight of this day trip is the visit to My Son - an imperial city during the Cham Dynasty between the 4th and 12th centuries. On the return, tourists ... Read more
Location: tp. Hội An, Vietnam
Duration: 1 day (approx.)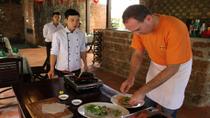 Discover Vietnam through its delicious cuisine during this half-day culinary tour and cooking class. Shop at a local market and learn about the fresh ... Read more
Location: Hoi An, Vietnam
Duration: 4 hours (approx.)