With influences from around Asia and the rest of the world (thanks to the British), Hong Kong's culinary scene is truly a melting pot. While the creative possibilities are endless, Hong Kong has developed its own distinctive food culture, with some 11,000 restaurants and several iconic dishes every visitor should try. Here are a few favorite foods and activities you won't want to miss.
Must-Try Dishes
If you only eat one thing in Hong Kong, make it dim sum, a Cantonese-style meal comprised of several small dishes like dumplings and other steamed or fried items. (Did you know the world's least expensive Michelin-rated restaurant is a dim sum joint in Hong Kong?) Walk the city streets, and you're sure to see another famous dish hanging in windows: roasted duck. The Canton region has its own barbecue style—a must-try for meat-loving visitors. Seafood and noodles, often served together, are also ubiquitous in Hong Kong.
Have a sweet tooth? Don't leave without sampling an egg tart, a small custard-filled pastry derived from a similar Portuguese dessert. Smooth and slightly sweet milk custard is another popular (and inexpensive) treat.
Must-Do Experiences
Take a street food tour of the Temple Street Night Market to get a taste of one of the world's best street food scenes and sample a lot of dishes without blowing your budget.
Get off the beaten path and eat like a local with a guided food tour of the Sham Shui Po, Mongkok, or Sheung Wan neighborhood.
Try a dim sum or Cantonese cooking class to equip yourself to recreate your favorite dishes back home.
Hop aboard a sunset cruise of Victoria Harbour for a memorable night in the city, followed by a seafood feast at Hong Kong's iconic Jumbo Floating Restaurant.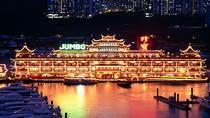 228 Reviews
Experience the magic of Hong Kong at night with an evening cruise on Hong Kong's dazzling Victoria Harbour, followed by an 7-course Chinese banquet at ... Read more
Location: Hong Kong, Hong Kong
Duration: 4 hours 30 minutes (approx.)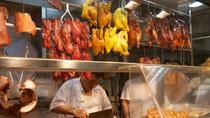 106 Reviews
Meander through the Central and Sheung Wan neighborhoods of Hong Kong's business district on a fantastic food-tasting adventure! This four-hour culinary ... Read more
Location: Hong Kong, Hong Kong
Duration: 4 hours (approx.)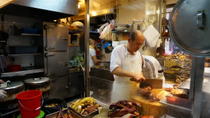 58 Reviews
This half-day food tour of Hong Kong makes five stops where you sample authentic Cantonese cuisine. Taste dim sum, wonton noodle soup, traditionally roasted ... Read more
Location: Hong Kong, Hong Kong
Duration: 4 hours (approx.)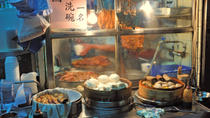 17 Reviews
Savor authentic Hong Kong delights on a food-tasting tour through the Kowloon neighborhood of Sham Shui Po! Follow an entertaining local guide on foot through ... Read more
Location: Hong Kong, Hong Kong
Duration: 4 hours (approx.)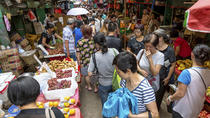 39 Reviews
Become an expert in Cantonese cuisine on a Hong Kong food tour that explores Kowloon's most authentic restaurants, markets and food stalls. Led by an ... Read more
Location: Hong Kong, Hong Kong
Duration: 3 hours (approx.)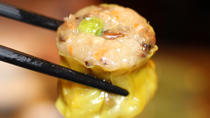 12 Reviews
Enjoy local Hong Kong culture and cuisine on this fantastic 3.5 hour walking tour. Indulge in Goose, Dim Sum, Egg Waffles and more, whilst exploring local ... Read more
Location: Hong Kong, Hong Kong
Duration: 3 hours 30 minutes (approx.)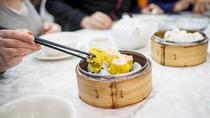 11 Reviews
Dig into an array of dim sum during this 2-hour guided culinary experience in Kowloon. Taste authentic Hong Kong dumplings and other small bites — served ... Read more
Location: Hong Kong, Hong Kong
Duration: 2 hours (approx.)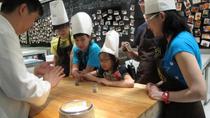 9 Reviews
While in Hong Kong, learn to make delicious dim sum staples such as bite-sized dumplings, spring rolls and desserts. An expert chef unveils secret recipes and ... Read more
Location: Hong Kong, Hong Kong
Duration: 2 hours (approx.)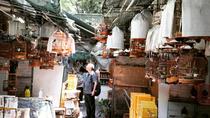 1 Review
Hong Kong is packed full of fascinating markets and all these markets are colorful and lively, absolutely a must on any visit. It's not only a great place for ... Read more
Location: Hong Kong, Hong Kong
Duration: 4 hours (approx.)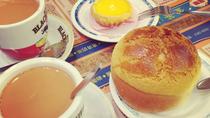 2 Reviews
Celebrate the culinary traditions of Hong Kong and eat like a local on this 4-hour private walking tour. Sample delectable treats such as sweet, crispy ... Read more
Location: Hong Kong, Hong Kong
Duration: 4 hours (approx.)