Majestic skyscrapers and bustling harbor traffic feature on the ever changing Hong Kong waterfront scenery. To take it all in consider a daytime Hong Kong Harbour cruise or, at night, a traditional Chinese junk and travel to the colorful Western District (once the busy waterfront trading center) on a night cruise along the waterfront towards Kowloon Promenade.

This phenomenal architectural skyline includes Bank of China, Hong Kong Bank, Kowloon Wharf and Stonecutters Island. Travel along the Western shoreline past traditional Chinese shipyards to the spectacular Tsing Ma Bridge.

Sail out to the Eastern harbor along Causeway Bay and North Point to the Shau Kei Wan Typhoon Shelter - home of local fishing families and their trusty deep sea fishing junks. Witness the firing of the legendary Jardine Noon day Gun, a tradition dating back to the early days of Hong Kong.

Hong Kong Symphony of Lights showcases the glamorous night vistas of Victoria Harbour. Cruise aboard a traditional Chinese sightseeing junk and enjoy a spectacular display of bouncing laser beams depicting the growth of Hong Kong from a sleepy fishing village to the dynamic world-class city it is today.

An evening cruise aboard a traditional Chinese tour boat combines sightseeing with a 9 course gourmet seafood banquet. Dine out in style at the famous Revolving 66 Restaurant, stroll along the narrow lanes of exciting Temple Street Night Market in Kowloon, then take a relaxing cruise on a Chinese junk and witness the mesmerizing reflections of Hong Kong's gorgeous multicolored lights.

Cheung Chau Island is a short ferry ride from Hong Kong. Visit Pak Tai Temple, supreme Emperor of the Dark Heaven, walk down to beautiful Tung Wan Beach before exploring 3,000 year old Bronze-Age rock carvings and old fishing communities of West Bay and Cheung Po Tsai Cave, where followers come to worship the Goddess of Sea.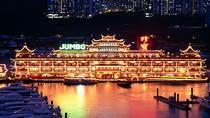 209 Reviews
Experience the magic of Hong Kong at night with an evening cruise on Hong Kong's dazzling Victoria Harbour, followed by an 7-course Chinese banquet at ... Read more
Location: Hong Kong, Hong Kong
Duration: 4 hours 30 minutes (approx.)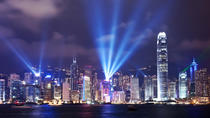 278 Reviews
Enjoy sweeping city views over a lovely meal at Hong Kong's Victoria Peak, followed by a cruise on famous Victoria Harbour with unlimited drinks. This is a ... Read more
Location: Hong Kong, Hong Kong
Duration: 5 hours (approx.)
10 Reviews
Take the historical ride of Star Ferry to cross Victoria Harbor from Hong Kong Island to Kowloon.  The Star Ferry is the oldest means of transportation in Hong ... Read more
Location: Hong Kong Region, China
Duration: 8 hours (approx.)
3 Reviews
In Victoria Harbour Hong Kong, a Symphony of Lights is staged every night at 8:00 p.m. 44 buildings on both sides of the Victoria Harbour light up one by ... Read more
Location: Hong Kong Region, China
Duration: 3 hours (approx.)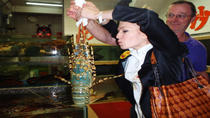 136 Reviews
Combine sightseeing and gourmet seafood on your evening out in Hong Kong. First, you'll take an evening cruise on Hong Kong's Victoria Harbour aboard a ... Read more
Location: Hong Kong, Hong Kong
Duration: 3 hours (approx.)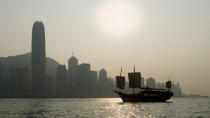 21 Reviews
The best way to experience a Hong Kong sunset is on the harbor with a few drinks before dinner.
Location: Hong Kong, Hong Kong
Duration: 90 minutes (approx.)
On October 1st , the best place to enjoy the fireworks show is from a cruise sailing in Victoria Harbour. The cruise tickets will be sold out very soon! ... Read more
Location: Hong Kong Region, China
Duration: 3 hours (approx.)