Travelers to Hong Kong should clear a day to pop over to Macau on the ferry for a day of sightseeing. A day trip to Macau is the best way to see both of these very unique spots in Asia.
Macau is the oldest European settlement in Asia and has a number of historic sights to visit aside from its glamorous and glitzy casino side. The former Portuguese colony is only an hour away on the Jetfoil or catamaran, making a Hong Kong to Macau day trip one of the most popular ways to explore Macau. Wondering what there is to see? Here's a look at some of Macau's highlights.
Largo do Senado
Largo do Senado, Senado Square, or the Square of the Senate, was once the Portuguese center of the city. It very much reflects colonial Portuguese influences and many remark this area is like the Mediterranean in Asia. This area is paved in traditional Portuguese pavement and is enclosed by St. Dominic's Church, the General Post Office and Leal Senado (the Portuguese seat of Macau's government). Many of the main historical sights are around Largo do Senado, which is part of the UNESCO-listed Historic Center of Macau.
Ruins of St Paul
The Ruins of St Paul make up one of the most photographed spots in Macau. This spot was originally part of a 16th-century complex that included St Paul's College and the Cathedral of St Paul.
A-Ma Temple
A-Ma Temple is one of the oldest and most famous Taoist temples. Located on the southwest tip of the Macau Peninsula, A-Ma Temple is dedicated to Matsu (or Mazu), the goddess of fishermen. The temple was constructed in 1488 during the Ming Dynasty and existed before the city of Macau came to be.
Guia Circuit
Macau is home to several large car and motorcycle racing events, including the Macau Grand Prix and the Guia Race of Macau. The Guia Circuit started in the 1950's and began as an amateur racing event for locals and saw the addition of the motorcycle track in the 1960s. The circuit is unique for its combination of both car and motorcycle races held in the same weekend.
Macau Tower
Be sure to check out the 1,109-foot (338-meter) Macau Tower and its observation deck, restaurants, shops, and theaters. For the truly adventurous, check out Skywalk X (walking tour around the outer rim) and "Skyjump"—bungee jumping from the tower's outer rim.
Cotai Strip
The Cotai Strip is the main strip of hotels and casinos in the Cotai section of Macau. The well-known Las Vegas Sands Corporation is the one behind the project, designed to create an area that strongly resembles the Las Vegas Strip. Properties include The Venetian Macao, Sands Cotai Central, Four Seasons Macau, Macao, Macau Galaxy, and more.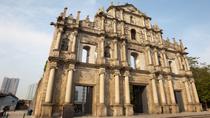 6 Reviews
Discover Portuguese influences in Macau on visits to various historical and cultural sites with your private guide on this private tour from Hong Kong. Explore ... Read more
Location: Hong Kong, Hong Kong
Duration: 10 hours (approx.)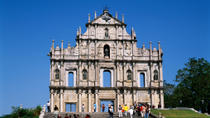 813 Reviews
Complete your visit to Hong Kong with a day trip to Macau, once the oldest European settlement in the Orient. Sit back and relax as you sail across the sea ... Read more
Location: Hong Kong, Hong Kong
Duration: 11 hours (approx.)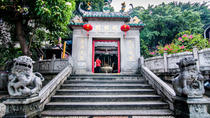 40 Reviews
If you've wondered what's unique about the former Portuguese colony of Macau, take a city sightseeing tour with a knowledgeable local guide. Visit historical ... Read more
Location: Macau, China
Duration: 7 hours (approx.)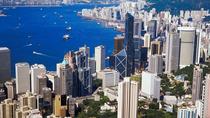 4 Reviews
Explore the sights of Hong Kong and Macau on this 5-day trip that gives you two guided tours in both cities, free time to explore on your own, private ... Read more
Location: Hong Kong, Hong Kong
Duration: 5 days (approx.)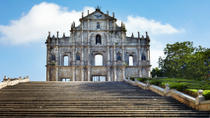 4 Reviews
On this independent tour from Hong Kong to Guangzhou and Macau, spend five days/four nights exploring historical sites and discovering the culture of southern ... Read more
Location: Hong Kong, Hong Kong
Duration: 5 days (approx.)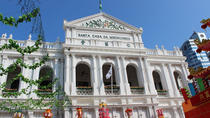 Catch the highlights of Macau, old and new, on this 13.5-hour day trip to the island from Shenzhen, which includes round-trip ferry tickets. See the Temple of ... Read more
Location: Macau Region, China
Duration: 8 hours (approx.)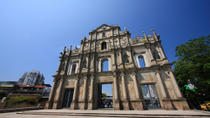 This independent 7-day tour takes you to three of China's most sought-after destinations: Hong Kong, Guangzhou and Macau. In addition to sightseeing tours in ... Read more
Location: Hong Kong, Hong Kong
Duration: 7 hours (approx.)