Houston is a melting pot of cuisines and cultures, with everything from burgers to burritos to sushi to Korean braised lamb. That being said, the most iconic dishes tend to be of the barbecue and Tex-Mex variety. To help you decide what you should try in Houston, here are some recommendations.

1) Houston is home to some of the state's best barbecue, with many options to sample brisket, ribs, burgers, pulled pork, hot sausage and chicken. Gatlin's BBQ (1221 W. 19th Street) is known for having the best in town. While the family-owned eatery offers many worthwhile choices, their most popular item is the brisket, so fatty, juicy and flavorful you don't even need sauce. For some variety opt for their three meat deal, where you can get three meats, bread, and two sides -- like baked beans, potato salad and cole slaw -- for $14.95.

2) Houston has a rich Tex-Mex history, with the first restaurant, Original Mexican Restaurant, opened in 1907. Tex-Mex in Texas is much different from other parts of the United States, where it generally means localized Mexican cuisine. In Texas, however, these meals have heavy amounts of meat, cheese, beans and spices, such as dishes like chili con carne, chimichangas and fajitas. Because there are many Mexican immigrants in Houston the dishes contain authentic Mexican ingredients mixed with local staples. One excellent restaurant to sample this cuisine in in Houston is El Tiempo Cantina (5602 Washington Ave), known for having juicy, well-seasoned beef fajitas, hearty sausage enchiladas and strong margaritas.

3) As stated above chili is a local favorite, especially topped with grated cheese and diced onions and served over Fritos. Located in Braeburn, The Chili Shak (9600 Fondren Rd) features an entire menu of chili-inspired dishes. We recommend the enormous Frito pie topped with hearty chili, jalapenos and shredded cheese. Chili cheese fries, chili burgers and chili dogs are also delicious choices.

4) For dessert, opt for the local staple of pecan pie. While there are many contenders for who has the best, most can't deny Goode Co. BBQ's "Brazo's Bottom Pecan Pie," baked fresh each morning with farm fresh eggs and local pecans, delivers a superb balance of sweet and savory. The establishment has multiple locations in Houston.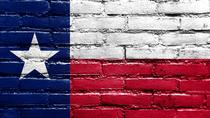 9 Reviews
Enjoy a fun, casual way to experience Houston on this pub tour! Hear interesting stories from your guide about the city's history and culture as you stroll ... Read more
Location: Houston, Texas
Duration: 3 hours (approx.)