Órgano Bay Tours
Órgano Bay is an isolated stretch of beach, located south of the Bahia de Santa Cruz. It is best visited by boat, a quick 10-minute boat ride. Órgano Bay is very near Playa Maguey, a popular spot for snorkelers. It's only 1.55 miles away from Santa Cruz, but it is a rough road, and not really accessible by vehicle. To visit Órgano Bay by vehicle, it is approximately a 20-minute walk from the main road. For a real adventure, consider renting a motorcycle or 4-wheeler to traverse the rough terrain.
One of the best and most popular ways to visit Órgano Bay is on a Huatulco National Park Sightseeing Cruise that includes some snorkeling time. Another option is to book a snorkel or dive trip to Órgano Bay, which is considered a "virgin beach" and has fine white sand contrasted by tropical blue and green shades of water. It's a common spot for diving with its calm and clear waters. Órgano Bay is tranquil and recommended for travelers who just want to get away from it all.
If you are interesting in diving in Huatulco, Órgano Bay is a great place to learn. Beginner divers will appreciate its shallow slope, making it ideal for check-out dives. Depending on weather conditions, more experienced divers may explore a shipwreck, underwater ridges, and volcanic rock. Pay attention to the rock formations in the area; they are often referred to as "the faces in the rocks," a natural phenomenon that occurs where the rocks protrude, giving rise to belief they look like faces.
Practical Info
There are no restaurants or services available at Órgano Bay so bring water and necessities with you, especially a hat, sunblock, and dry change of clothes. During the tourist season, you are likely to find some vendors selling food and drinks. If you plan to book a scuba diving tour, be sure to bring your certification card.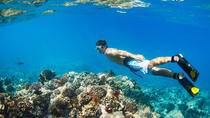 8 Reviews
Experience the natural wonders of Bahías de Huatulco National Park, traveling by boat along a series of beautiful bays strung along the Pacific coast. ... Read more
Location: Santa María Huatulco, Oaxaca
Duration: 7 hours (approx.)